Fit Food: Eating Well for Life (Paperback)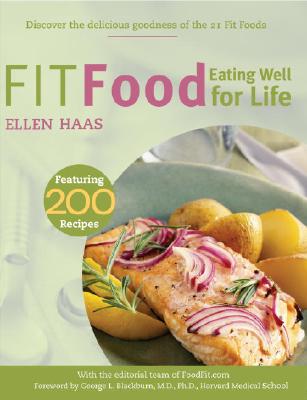 Description
---
What we eat fuels our bodies, shapes our health, and is central to our well-being. Every year, scientists learn more about the strong relationship between food and health. Luckily, eating right has never been easier to do or more delicions for your taste buds—when you know how. The Fit Foods—everyday foods like blueberries or turkey or yogurt—are your ingredients for wellness, deliciously. Together, the 21 Fit Foods reinforce each other's health benefits and supply your body with the nourishment it needs for a long and healthy life.

Ellen Haas is a leading expert on healthy eating and founder and CEO of FoodFit.com, a popular source for healthy eating on the web. When she launched FootFit.com in 2000, it was a natural extension of her long career dedicated to consumer advocacy. Her new book, Fit Food, captures the essence of the valuable information found on FoodFit.com. Starting with the basics of nutrition, it takes you beyond the science to focus on the everyday foods that contribute to your health. This handy, easy-to-use resource helps you eat well and stay fit, dieting or no dieting. It showcases top chef-created recipes and the best tips and expert advice from FoodFit.com.
About the Author
---
Ellen Haas is a leading expert on healthy eating. She recently served as under-secretary of Agriculture for Food, Nutrition and Consumer Services, and is founder and CEO of FoodFit.com, a nutrition- and fitness-related Web site. The mother of two, she lives in Washington, DC.