The Man That Corrupted Hadleyburg: And Other Short Works (Paperback)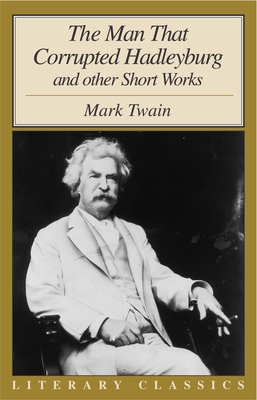 Description
---
This collection of lesser-known little gems by Mark Twain begins with a witty account of a fictional town called Hadleyburg, which prides itself on its long untarnished tradition of incorruptible citizens. One day someone in the town offends a stranger passing through and he vows to take revenge by plotting an elaborate scheme to show the whole nation just how corruptible this sanctimonious bastion of virtue really is. Through a series of cleverly placed letters promising a fortune, the insidious outsider lays a trap for each of HadleyburgAEs leading citizens. Twain is at his best here poking fun at small-town hypocrisy as the self-satisfied pillars of the community are done in by their own greed.
Also included are fourteen other short pieces of fiction and nonfiction, including TwainAEs account of his literary debut as a reporter, in which he described the harrowing journey and rescue of some ship-wrecked sailors; an essay on the famous authorAEs ofirst lie, o which begins humorously but quickly turns into a serious commentary on the silent lies society tolerates to perpetuate such injustices as slavery and prejudice; an amusing, tongue-in-cheek petition to Queen Victoria regarding a tax bill sent to Twain by the British revenue office for an amount due on sales of his books in England; an oEsquimau MaidenAEs Romanceo; a detective story; and many other intriguing, scarcely known pieces.
These interesting and entertaining short works will be a welcome discovery to all those who have enjoyed TwainAEs popular novels and stories.
About the Author
---
MARK TWAINwas born Samuel Langhorne Clemens in Florida, Missouri, on November 30, 1835, the son of John Marshall Clemens, an avowed freethinker, and his wife, Jane, a believer and connoisseur of the occult. These two opposing forces freethought and spiritualism colored the young Twain's view of the world and would later serve as material for his books. As a child, Twain knew both violence and tragedy. In the town of Hannibal, Missouri, where he lived from 1839 to 1853, shootings and attempted shootings were not unusual events. Twain's older brother Benjamin died when Twain was only six; a few months later, the family lost their home to debt. When Twain was twelve, his father died. It was at this time that Twain left school to go to work in order to help his financially strapped family, first as a printer's apprentice and later as a journeyman printer; he was also a river pilot, a prospector, and a roving newspaper reporter. Twain's journalistic travels took him throughout the United States as well as to South America, Europe, and the Middle East, from where he sent back entertaining travel letters. While a reporter for the Virginia CityTerritorialEnterprise, he adopted the pen name Mark Twain. His scathing, observant articles began to earn him a wide and loyal readership. Samuel Clemens/Mark Twain made his readers, and later his listeners during his lecture tours, familiar with his life: skillfully blending the real and the fictional, he created the character of Mark Twain whom Americans and the world recognized and loved in his many books, includingThe Celebrated Jumping Frog of CalaverasCounty, and OtherSketches(1867);Innocents Abroad (1869); Roughing It(1872);The Adventures of Tom Sawyer (1876);and his masterpiece, Adventuresof Huckleberry Finn(1884). Eulogized by William Dean Howells as "the Lincoln of our literature," Twain achieved great fame from his writing and earned a fortune. He lost this, however, following his involvement in a failed publishing house venture; thereafter, Twain lectured to clear his debts. The final two decades of Twain's life were marked, as were his first years, by a series of tragedies: during these years he lost in quick succession his beloved wife, Livy; a favorite nephew; his daughters Susy and Jean; and his sister, Pamela. Twain had toyed with the idea that life is a dream and that human emotions and experiences are delusions. His work at this time reflects his growing gloominess, pessimism, and contempt for organized religion: Extracts fromAdam's Diary(1904) andEve's Diary(1906) satirized Scripture;Christian Science(1907) ridiculed Mark Baker Eddy's new religion. This is the period, too, of Twain's vitriolicLetters from the Earth(1906; first published in 1962) andThe MysteriousStranger, several versions of which were written during 1905-06 and which was posthumously published in 1916. Here Twain denies the existence of a benign Providence, a soul, or an afterlife. Indeed, reality itself is taken away as the Stranger in this antireligious tale the angel-boy, Satan asserts that "nothing exists; all is a dream." This and the other works of Twain's last years belie that popular image of the easy, affable American humorist; they reveal instead a man engaged in an often tortuous struggle to discover what life is and what meaning, if any, it holds. Mark Twain died in Redding, Connecticut, on April 21, 1910."