Moyers on America: A Journalist and His Times (Hardcover)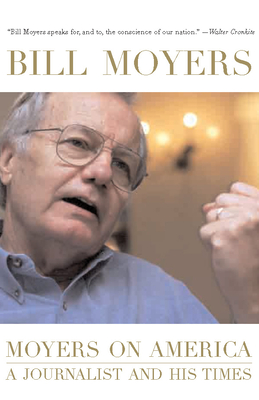 $24.95
Usually Ships in 1-5 Days
Description
---
Over the years millions of Americans have invited Bill Moyers into their homes. His television programs--covering topics ranging from American history, politics, and religion to the role of media and the world of ideas--have made him one of America's most recognized and honored journalists. In these pages, Moyers presents, for the first time, a powerful statement of his own personal beliefs--political and moral. Combining illuminating forays into American history with candid comments on today's politics, Moyers delivers perceptive and trenchant insights into the American experience.
From his early years as a Texas journalist to his role as one of the organizers of the Peace Corps, top assistant to President Lyndon Johnson, publisher of Newsday, senior correspondent and analyst for CBS News, and producer of many of public television's groundbreaking series, Moyers has been actively engaged in some of the most volatile episodes of the past fifty years. Drawing from this practical experience, he demonstrates a unique understanding of how American politics works and an enduring faith in the nation's promises and possibilities. Whether reflecting on today's climate of megamedia concentration, rampant corporate scandals, or religious and political upheavals, Moyers on America recovers the hopes of the past to establish their relevance for the present.
About the Author
---
Bill Moyers is a journalist and public commentator. He was a founding organizer of the Peace Corps, a senior White House assistant and press secretary to President Lyndon B. Johnson from 1963 to 1967, the publisher of Newsday, a senior news analyst for CBS News, and the producer of groundbreaking series for public television. He is the winner of more than thirty-five Emmy Awards, nine Peabody Awards, and a National Academy of Arts & Sciences Lifetime Achievement Award. He is the author of Moyers on America: A Journalist and His Times and Bill Moyers Journal: The Conversation Continues, both published by The New Press. He lives in New York City and hosts a weekly series, Moyers & Company.