The Power of Myth (Compact Disc)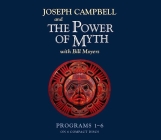 Description
---
The complete soundtrack from the phenomenally popular PBS series whose message about myth, ritual, and spiritual potentialities exhilarated millions of people.
Contents:
Program 1: The Hero's Adventure
Program 2: The Message of the Myth
Program 3: The First Storytellers
Program 4: Sacrifice and Bliss
Program 5: Love and the Goddess
Program 6: Masks of Eternity.
About the Author
---
Jospeh Campbell was born on March 26th in 1904, in White Plains, NY. As a child in New York, Campbell became interested in Native Americans and mythology through books about American Indians and visits to the American Museum of Natural History. Campbell attended Iona, a private school in Westchester NY, before his mother enrolled him at Canterbury, a Catholic residential school in New Milford CT. He graduated from Canterbury in 1921, and the following September, entered Dartmouth College; he soon dropped out and transferred to Columbia University, where he excelled. While specializing in medieval literature, he played in a jazz band, and became a star runner. After earning a B.A. from Columbia in 1925, and receiving an M.A. in 1927 for his work in Arthurian Studies, Campbell was awarded a Proudfit Traveling Fellowship to continue his studies at the University of Paris, studying medieval French and Sanskrit in Paris and Germany. After he had received and rejected an offer to teach at his high school alma mater, his Fellowship was renewed, and he traveled to Germany to resume his studies at the University of Munich. After travelling for some time, seeing the world, he was offered a teaching position at the Canterbury School. He returned to the East Coast, where he endured an unhappy year as a Canterbury housemaster, but sold his first short story, Strictly Platonic, to Liberty magazine. Then, in 1933, he moved to Woodstock NY, where he spent a year reading and writing. In 1934, he was offered and accepted a position in the literature department at Sarah Lawrence College, a post he would retain for thirty-eight years. His first, full-length title, The Hero with a Thousand Faces, was published to acclaim and brought him numerous awards and honors, among them the National Institute of Arts and Letters Award for Contributions to Creative Literature. During the 1940s and 1950s he collaborated with Swami Nikhilananda on translations of the Upanishads and The Gospel of Sri Ramakrishna. Over the years, he edited The Portable Arabian Nights and was general editor of the series Man and Myth. In 1956, he was invited to speak at the State Departments Foreign Service Institute. His talks were so well-received, that he was invited back annually for the next seventeen years. In the mid-1950s, he also undertook a series of public lectures at Cooper Union in New York City; these talks drew an ever-larger, audience, and soon became a regular event. In 1985, Campbell was awarded the National Arts Club Gold Medal of Honor in Literature. Campbell wrote more than 40 books including The Hero with a Thousand Faces, The Mythic Image, and The Power of Myth with Bill Moyers, and is now considered one of the foremost interpreters of sacred tradition in modern time. Joseph Camppbell died in 1987 after a brief struggle with cancer.

Joseph Campbell was an American author and teacher best known for his work in the field of comparative mythology. He was born in New York City in 1904, and from early childhood he became interested in mythology. He loved to read books about American Indian cultures and frequently visited the American Museum of Natural History in New York, where he was fascinated by the museum s collection of totem poles. Campbell was educated at Columbia University, where he specialized in medieval literature, and, after earning a master s degree, continued his studies at universities in Paris and Munich. Throughout his life, he traveled extensively and wrote prolifically, authoring many books, including the four-volume series The Masks of God, Myths to Live By, The Inner Reaches of Outer Space, and A Skeleton Key to Finnegans Wake. Campbell died in 1987. In 1988, a series of television interviews with Bill Moyers, The Power of Myth, introduced his views to millions of people.