Buddhism with an Attitude: The Tibetan Seven-Point Mind Training (Paperback)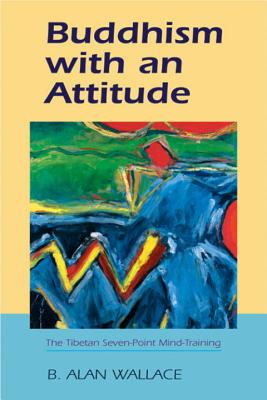 $24.95
Usually Ships in 1-5 Days
Description
---
All of us have attitudes. Some of them accord with reality and serve us well throughout the course of our lives. Others are out of alignment with reality and cause us problems. Tibetan Buddhist practice isn't just sitting in silent meditation, it's developing fresh attitudes that align our minds with reality. Attitudes need adjusting, just like a spinal column that has been knocked out of alignment. In this book, B. Alan Wallace explains a fundamental type of Buddhist mental training which is designed to shift our attitudes so that our minds become pure wellsprings of joy instead of murky pools of problems, anxieties, fleeting pleasures, hopes, and frustrations. Wallace shows us the way to develop attitudes that unveil our full capacity for spiritual awakening.

The author draws on his thirty-year training in Buddhism, physics, the cognitive sciences, and comparative religion to challenge readers to reappraise many of their assumptions about the nature of the mind and physical world. By explicitly addressing many practical and theoretical issues that uniquely face us in the modern world, Wallace brings this centuries-old practice into the twenty-first century.
About the Author
---
B. Alan Wallace has authored, translated, edited, and contributed to more than forty books on Tibetan Buddhism, science, and culture. With fourteen years as a Buddhist monk, he earned a BA in physics and the philosophy of science and then a PhD in religious studies. After teaching in the Department of Religious Studies at the University of California, Santa Barbara, he founded the Santa Barbara Institute for Consciousness Studies to explore the integration of scientific approaches and contemplative methods.
Praise For…
---
"Readers who put the advice this book contains into practice may indeed transform their minds and achieve a sense of inner peace, the key to greater peace and happiness within and in the world at large."—His Holiness the Dalai Lama

"Alan Wallace, one of the great Western Buddhist thinkers of our day, has written an extraordinary book! Buddhism with an Attitude is written not only with great intelligence, but also in an accessible and readable style that helps us apply the principles in daily life."—Howard C. Cutler, MD, coauthor with H.H. the Dalai Lama of The Art of Happiness

"This book places you into a new domain where the world actually becomes the meditation hall. . . . A book to guide both beginners and seasoned meditators, a book to be read reread and studied."—Buddhist Peace Fellowship

"Dr. Wallace's versatility in the cognitive sciences offers a unique amplification for our understanding of such topics as primordial wisdom, consciousness, meditative stabilization, and bringing adversity onto the path of liberation. Through Seven-Point Mind Training, Wallace shows us the way to develop attitudes that unveil our capacity for spiritual awaking."—Branches of Light