Anything Considered (Abridged / Audio Cassette, Abridged)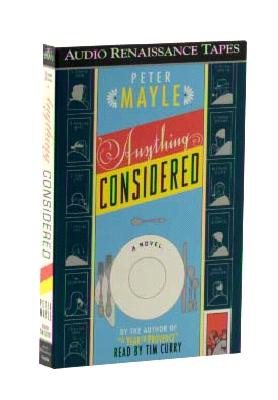 Description
---
Bennett is an English expatriate living in France with champagne taste and a beer bankroll. Happy-go-lucky, a bit roguish, and almost out of cash, he places an ad in the International Herald Tribune volunteering his services: anything considered except marriage.

He pursues a response from the very, very wealthy Julian Poe, who has developed a simple but slightly illegal scheme to help keep the French tax man away from his door. He has also (although Bennett doesn't know it yet) developed a means of producing truffles, and intends to corner the immensely lucrative truffle market.

Bennett signs on to help Poe with his taxes and soon finds himself in Monaco, living in a style to which he has always wished to become accustomed. But his bubble soon bursts under the weight of Poe's nefarious truffles, and Bennett finds himself involved with Sicilian and Corsican Mafiosi, crooked gendarmes, an order of monks dedicated to the god Bacchus -- and the beautiful, sexy Anna Hersh, who's supposed to help Bennett, but who has her own agenda for this affaire that may be hazardous to the health of both of them.
About the Author
---
Peter Mayle spent 15 years in the advertising business before escaping in 1975 to write books. His work has been translated into seventeen languages, he has contributed to a variety of newspapers and magazines, and a hit TV series was based on his writings about his beloved Provence.

Tim Curry studied Drama and English at Cambridge and at Birmingham University, from which he graduated with Combined Honors. He created the role of Frank N. Furter in The Rocky Horror Show and starred in the screen version The Rocky Horror Picture Show. He has received two Tony Award nominations for best actor and won the Royal Variety Club Award as "Stage Actor of the Year." A composer and a singer, Mr. Curry toured the US and Europe with his own band and released four albums for A&M records.

Tim's distinctive voice can be heard on more than a dozen audiobooks, and in countless animated television series and videos. He's read for such authors as Lemony Snicket, Brian Herbert, Ken Follett, and Stephen King. In describing one of Tim's performances, "AudioFile" Magazine said, "Curry is a master of dry, ironic tones that add an additional undercurrent of suspense, keeping the listener off-balance throughout."