Toujours Provence (Abridged / Audio Cassette, Abridged)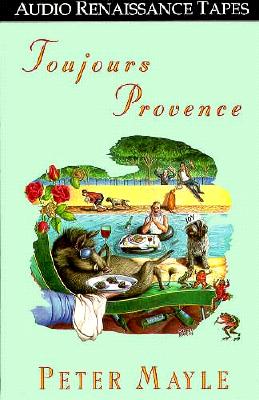 Description
---
With Toujours Provence, Peter Mayle continues where his enormously successful A Year in Provence left off. In this funny, savory, irresistible program, Mayle delights us with tales of life in Provence, including finding gold at the bottom of his garden and attending a Pavarotti concert under the stars. He also explores the joys and sometime hazards of wining and dining in France, and introduces us to some truly unique characters - including a wary truffle hunter, a gourmet in a tracksuit, and the wise and crafty Massot, the man from whom Provence holds no secrets.
The life that Peter Mayle portrays is a far cry from the quiet, uneventful existence suggested by picturesque postcards of the southern coast of France. And in his portrayal he proves the adage that, while you may not be able to escape from it all - you sure can have fun trying.
About the Author
---
Author Peter Mayle spent fifteen years in the advertising business before escaping Madison Avenue in 1975 to write books. His work has been translated into seventeen languages, and he has contributed to a variety of newspapers and magazines. "A Year in Provence" won the British Book Awards' "Best Travel Book of the Year." He and his wife live in Provence. Patrick Macnee was born in 1922 in London, England. He first appeared on stage and made his film debut as an extra in "Pygmalion." After World War II, he resumed his stage and film career, with bit parts such as Young Jacob Marley in "Scrooge." The role that brought him worldwide fame and popularity was the part of John Steed, in the classic British television series "The Avengers." During the 1980s and 1990s, he became a familiar face on American television in such series as "Gavilan," "Empire," "Thunder in Paradise" and "Night Man." Patrick has recorded a number of audiobooks including eight of Jack Higgins' thrillers and Peter Mayle's "Toujours Provence."
Praise For…
---
"Like a good host, [Mr. Mayle] entertains us with course after course of comic characters."
- The New York Times Book Review, on A Year in Provence