Before We Leave You: Messages from the Great Whales and the Dolphin Beings (Paperback)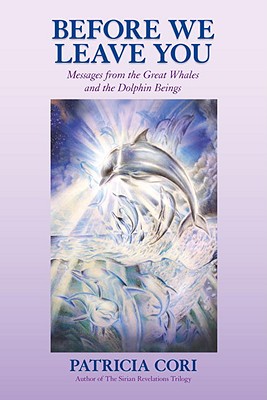 Description
---
In November 2008 Patricia Cori was in Jordan teaching a workshop on the threats to planetary ecology when a life-changing event occurred. A community of Cetaceansuoa choir of whales and dolphins interrupted her talk with a frantic plea for help. In this book Cori explains the immense potential for human beings to save them.
About the Author
---
Patricia Cori is a world-renowned author, adventurer, teacher/lecturer, and spiritual guide to the sacred sites of the Earth. A native of the San Francisco Bay Area, she has been immersed in the New Age Movement since its inception there in the early 1970s. She has utilized her clairvoyant abilities in healing and support work throughout her life, which has been dedicated in great part to the study of mysticism, philosophy, ancient civilizations, metaphysical healing, spirituality, and unexplained mysteries. Cori has been recognized and celebrated as a gifted shaman by indigenous spirit teachers of the Tibetan, Mayan, and Peruvian traditions and has guided people through sacred sites in Asia, Mexico, Egypt, Europe, and Peru, awakening them to Earth energies and the Secret Wisdom.

A sought-after international figure who has made numerous radio appearances, Cori has been a keynote speaker at strategic conferences around the world and has recently been featured in the documentary films "The Circle Chasers 2006 "and" 2012--We're Already In It! "She also appears in Terje Toftenes's new film, " The Concept. "Her growing list of best-selling books and her CD have enjoyed worldwide acclaim as wake-up call material for the expanding consciousness of humankind.

Cori's devotion to the whales and dolphins of this earth have led her to spend numerous hours at sea, sailing close to the whales and swimming with dolphins in the wild. A tireless animalist, her goal is to help humanity wake up to the plight of our oceans and to discover how we can unite forces to save them and restore the balance.

To find out more about her SoulQuest(TM) journeys, which include swimming with wild dolphins, check out her latest activities on her website: www.patriciacori.com.
Praise For…
---
"Patricia Cori has done a great service to us all, and I believe the majestic creatures of the sea as well, by turning her skill, passion, and intelligence toward understanding and protecting them, and simultaneously illuminating a path for human transformation."
—New Consciousness Review

"Patricia Cori is the embodiment of the starseed project. She is a living library and her books are living vessels." 
—Alfred Lambremont Webre, JD, MEd, founder of Exopolitics.com

"The words of this book flow like music, and i felt like I was riding the wave as i read them."
—Gary Goldberg, radio show host, In The Spirit Radio

"Extraordinary and deeply moving. This book is a must read for the entire human race."
—Hillary Raimo, talk show host, author, and spiritual teacher

"No sooner had Patricia entered the water, filled with over fifty dolphins, when one of them brushed up against her body and then leaped over her in the air. The team saw this amazing moment occur from our boat. In all my years of observing Cetaceans, I have never experienced this kind of interaction between wild dolphins and humans! Some might even call it a 'miracle.'"
—Enrico Villa, cofounder of whale watching organization CWazores.com

"Pat Cori is a wonderful combination of intelligence and passion and she aims it at the understanding and protection of whales and dolphins in a powerful way."
—Hardy Jones, wildlife and conservation filmmaker and founder of BlueVoice.org

"I have been a huge supporter of Patricia Cori and her work for many years! I have followed her travels, read all of her books, soaked up her wisdom, and honored her presence on our planet during this time of awakening, expansion and change. Don't miss out on her brilliance. Get her books, hear her speak, travel with her on her sacred sites tours and follow her work. She's one of the 'great ones!'"
—Cari Murphy, radio show host and bestselling author of Create Change Now

"Amazing works, but 'phenomenal' is far more accurate! Uncanny intuition and incredible psychic gifts have made Patricia Cori an international icon and one of the finest radio hosts on BBS Radio, with her weekly radio program Beyond the Matrix. Her extraordinary vision and the way she communicates her truth to her readers will make Patricia a staple in every library. This woman will change your entire life, just like magic!"
—Donald Newsom, president of BBS Network, Inc. (bbsradio.com)

"Not only does she bring us information—she brings solutions.…"
—Tamara Westwood, Illuminations Radio

"Patricia Cori has been recognized as one of the great channels of our time!"
—Sharon Taphorn, The Shift Radio

"A fascinating discussion! Patricia Cori is an expert on the subject of 2012.…"
—Tommy Schnurmacher, KJAC Radio Montreal

"Patricia is one of the most insightful guests that I have had in a while, and she tells it like it is!"
—Keith Murphy, host of The Urban Journal radio show

"Some people throw pebbles into the ocean and some people throw rocks which create an even bigger ripple. Patricia is like that rock … I love how she is helping humanity rise in consciousness."
—Ralph Okrafo-Smart, Infinite Waters Radio

"I have never read such powerful and truthful material."
—Award-winning filmmaker Christianne van Wijk

"Whether she is documenting ancient mysteries, swimming in the open sea with whales and dolphins or shifting paradigms, Patricia's message of empowerment and hope resonates because of her ability to bring people practical insights into the meaning of their lives, while shining light into the dark corners of our common experience."
—Starseed Shaman

"Patricia Cori is a tremendous gift to us all. She has honoured the call of her Soul, and walks as an example of one dedicated to service of the awakening human spirit. Her multidimensional agility in conversation, grounded in her rich personal life experience, offered such sweet music for the dance we shared with all of the listeners, and more to come, who will enjoy the archives. Many thanks to you, Patricia, for your courage and for choosing to be with us all at this time."
—DJamil Graham, Alchemy of Light Broadcast, BBSRadio.com

"Patricia, thank you again for leading the way for so many others to follow in the century we are in..."
—Dr. Zohara Hieronomus, 21st Century Radio

"Patricia Cori is one of the most fascinating, charismatic, articulate, knowledgeable and intriguing guests I ever had on The Paranormal Show. I was so captivated by Patricia that the hour interview passed by like a flash of light. When the folks in the control room at the TV station gave me the instructions in my earpiece to wind down the show as we were nearing the end of it, I had to look at my watch to validate that I was being given the correct message. She is a class act, both on the inside and the outside. Needless-to-say, Patricia will be a welcome guest on my show whenever her travels take her to Canada."
—Stan Mallow, Host, The Paranormal Show