Gaia and the New Politics of Love: Notes for a Poly Planet (Paperback)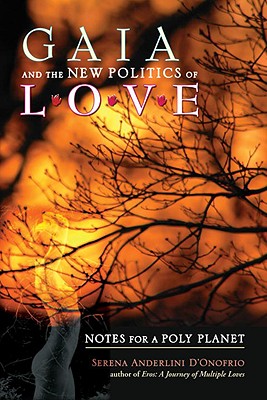 Please email or write store for pricing and availability information.
Description
---
***WINNER, 2010 Nautilus Silver Book Award Cosmology/New Science
Gaia theory argues that the flora and fauna of the planet operate in a self-regulating web that keeps the world livable. According to the theory, humankind is the most powerful species in this web and also its biggest threat. This provocative book explores ways to minimize and ultimately eliminate this threat with love and intimacy. Controversial Italian author Serena Anderlini-D Onofrio has authored the first global ecology study based on an analysis of human health. Anderlini-D Onofrio identifies her remedy within the context of Gaia theory, re-envisioning it as a more inclusive philosophy that positively impacts not only relationships, but world ecology under duress. The author links human sexuality to the global ecosystem, claiming that freedom from fear will stimulate a holistic health movement powerful enough to heal relationships and restore planetary balance.
"Gaia and the New Politics of Love "is bracing in its range, weaving together issues of human and global health; the relationship of politics, sexuality, and ecology; practices and styles of love; the changing roles of eroticism and gender in our lives; and polyamory, bisexuality, and the AIDS reappraisal movement.
Clarification Statement from the Author
The argument of this book emphasizes the arts of loving as a way to help humanity make peace with our hostess Gaia, the third planet. Some of these arts involve sharing emotional resources and amorous partners.
Often, the arts of loving require the use of barriers: mechanical protections such as condoms. At times they do not because only tantric energies are exchanged. The author of this book is persuaded that barriers are recommendable when sexual practices result in the exchange of deep body fluids, unless previous fluid-bonding arrangements have been made. The author is also persuaded that good practices of holistic health contribute to strengthening the immune systems of those who engage in the arts of loving.
Safety practices are important in making the arts of loving healthy regardless of what factors are involved in the syndromes most prevalent today, including AIDS and other conditions in the STD spectrum. Historically, disagreement has moved knowledge forward: Today's science is the result of yesterday's disagreements and controversies. The author believes in critical thinking and she respects dissidence in science today, including Gaia science, reappraisals of AIDS, and holistic medicine. She hopes her readers will be open to hearing more than one side of a story.
This statement and the contents of this book do not constitute medical advice in any way. Readers are invited to consult their own healers and health care providers.
Serena Anderlini-D Onofrio, PhD
Author of "Gaia and the New Politics of Love"
Cabo Rojo, Puerto Rico, March 2010
Blog: http: //polyplanet.blogspot.com/
About the Author
---
Serena Anderlini-D Onofrio was the keynote speaker at the 2007 conference of the World Polyamory Association and the 2007 Loving-More conference. She serves on the board of several professional journals, including "Nebula "and "Journal of Gender Studies. "Her articles have appeared in many publications, including "Women s Studies International Forum "and "VIA: Voices in Italian Americana. "She lives in Cabo Rojo, Puerto Rico."
Praise For…
---
"In her clear, intelligent voice, Serena Anderlini-D'Onofrio demonstrates that no law of love conservation exists. The more we love, the safer we are and the more love we receive. Read Gaia and the New Politics of Love for what it is: an original idea, a serious, scholarly antidote to the lovelessness that makes us miserable on this liveliest of planets."
—Lynn Margulis, winner of the National Medal of Science and author of Symbiotic Planet: A New Look at Evolution

"This book is a must-read for all those who want the human species to not only survive, but flourish in harmony with the Earth. If you read one book this year in the interest of reorienting your perspective on how we are going to save ourselves and Gaia interpersonally, environmentally, and politically, let it be Gaia and the New Politics of Love."
—C.T. Butler, founder of Food Not Bombs

"In this fascinating book about the ecology of love for a sustainable planet, Anderlini-D'Onofrio does exactly what she sets out to do: show how freedom of erotic expression, an integral part of sexual freedom, is a fundamental human right. Don't miss this superb read."
—Ricci Joy Levy, executive director of the Woodhull Freedom Foundation

"Serena Anderlini-D'Onofrio has a gift for connecting the general and the particular, so as to make even the most global concepts like ecofeminism relevant to our everyday lives. And this is essential to her important theme—that the way each of us loves and partners with each other affects the breath and blood of the very Earth on which we live."
—Terisa Greenan, creator of Family, the polyamory Web series

"Gaia and the New Politics of Love is a groundbreaking work that addresses cultural structures, artifacts, and their intersections. Anderlini-D'Onofrio allows us all to conceive of a world where people take risks when beautiful, necessary human and planetary lives are at stake."
—Elisabeth Sheff, PhD, sociologist and expert in the study of polyamory, Georgia State University

"Gaia and the New Politics of Love is a welcome intervention in contemporary discussions about the future of our planet. Anderlini-D'Onofrio helps us envision a world that is more compassionate, more equitable—indeed, more loving. That this scholarly, intelligent author convinces us to think about polyamory as a possible solution to so many vexing problems—from ecology to civil rights—is further testament to both her daring and her rhetorical power."
—Jonathan Alexander, PhD, professor of English, University of California, Irvine, and general editor, The Journal of Bisexuality

"With this profound yet accessible book, Serena Anderlini-D'Onofrio shows strong interconnections among seemingly disparate areas of public debate. Polyamory, she argues, is not only good for those who practice it, but even for the entire planet. In fact, she argues, love, sex, the environment, nature conservancy, health, peace, feminism, human rights, and happiness are all intertwined with each other. The author addresses delicate issues with clarity, strength, and courage. I hope that as many people as possible read this book so that its ideas, which are essential to save our planet, may spread as widely as possible."
—Carlo Consiglio, professor of zoology, University of Rome

"The author's departure from mainstream politics of thought will keep you turning the pages…Author Serena Anderlini-D'Onofrio takes a renewed look at the body of Gaia, linking human intimacy with global ecology, and positing a new way to think about health and love."
—New Consciousness Review

"This electrifying work will be seen as a turning point, on the order of The Aquarian Conspiracy, The Greening of America, The Earth in Balance as a seminal turning point in the paradigm with which we as a species face our existence on Earth."
—Tantric News