The Chaos of Standing Still (Hardcover)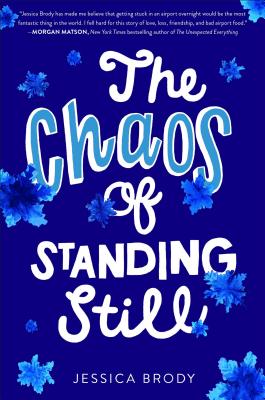 $17.99
Coming Soon - Available for Pre-Order Now
Staff Reviews
---
This book is beautiful. It combines grief and love ins such a real way that it feels like you are experiencing the world along with the main character Ryn. This book will make you feel all the feels and it's so cool that it takes place out our local Denver Airport (conspiracy theories included!). It also references Tattered Cover, so you know the book has to be good!
— Zoe J., Tattered Cover Teen Advisory Board
The Chaos of Standing Still is one of those books you didn't know you needed to read until it was in your hands. With Jessica Brody's amazing descriptions, intricate backstories, and loveable characters, this book is sure to be a hit. It brings you on a rollercoaster of emotions and overall makes you think about your life decisions. The book really helps bring focus to how you grief and handle the troubles that everyone experiences in life. Highly recommend.
— Veronica L., Tattered Cover Teen Advisory Board
Description
---
Over the course of one chaotic night stranded at the Denver airport, Ryn confronts her shattered past thanks to the charm of romance, the uniqueness of strangers, and the magic of ordinary places in this stunning novel from the author of Boys of Summer. Ryn has one unread text message on her phone. And it's been there for almost a year. She hasn't tried to read it. She can't. She won't. Because that one message is the last thing her best friend ever said to her before she died. But as Ryn finds herself trapped in the Denver International Airport on New Year's Eve thanks to a never-ending blizzard on the one-year anniversary of her best friend's death, fate literally runs into her. And his name is Xander. When the two accidentally swap phones, Ryn and Xander are thrust into the chaos of an unforgettable all-night adventure, filled with charming and mysterious strangers, a secret New Year's Eve bash, and a possible Illuminati conspiracy hidden within the Denver airport. But as the bizarre night continues, all Ryn can think about is that one unread text message. It follows her wherever she goes, because Ryn can't get her brialliantly wild and free-spirited best friend out of her head. Ryn can't move on. But tonight, for the first time ever, she's trying. And maybe that's a start. As moving as it is funny, The Chaos of Standing Still is a heartwarming story about the earth-shattering challenges life throws at us--and the unexpected strangers who help us along the way.