A Deadly Shade of Gold (MP3 CD)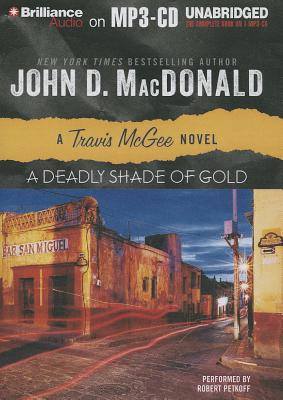 Please email or write store for pricing and availability information.
Description
---
John D. MacDonald was the great entertainer of our age, and a mesmerizing storyteller. Stephen King When Travis McGee picks up the phone and hears a voice from his past, he can t help it: He has to meddle. Especially when he has the chance to reunite Sam Taggart, a reckless, restless man like himself, with the woman who's still waiting for him. But what begins as a simple matchmaking scheme soon becomes a bloody chase that takes McGee to Mexico, a beautiful country from which he hopes to return alive. Travis McGee is the last of the great knights-errant: honorable, sensual, skillful, and tough. I can t think of anyone who has replaced him. I can t think of anyone who would dare. Donald Westlake Deception. Betrayal. Heartbreak. When Sam left his girlfriend, Nora, and vanished from Fort Lauderdale, no one was surprised. But when he shows up three years later lying in a pool of his own blood, people start to ask questions. And his old friend Travis McGee is left to find answers. But all he has to go on are a gold Aztec idol and a very angry ex-girlfriend. Is that enough to find his friend's killer? And when the truth is as terrifying as this, does he really want answers after all? John D. MacDonald is a shining example for all of us in the field. Mary Higgins Clark.