The Last Dragonslayer (MP3 CD)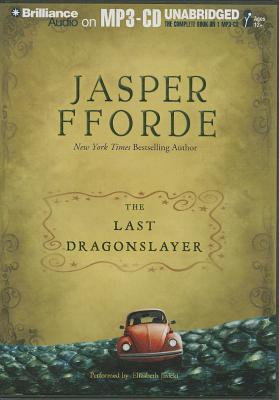 Please email or write store for pricing and availability information.
Staff Reviews
---
"While I wish Jasper Fforde would get on with it and write the sequel to Shades of Grey, I'll take what I can get when it comes to one of my favorite authors! I've loved everything Fforde has every written, Thursday
Next being one of the best characters out there, and I can now add The
Last Dragonslayer to the list. Once again Fforde has created an
alternate Great Britain, and this time it's magic (and comic mayhem)
that differentiates it from the Britain we know. Jennifer Strange, a
15-year-old foundling raised by the convent of the sacred order of the
Blessed Lady of the Lobster, and now in charge of an employment agency
for magicians (she only has two years left of her servitude, but her
master The Great Zambini has disappeared, so she's covering for him), is
just about in over her head. But of course, foundlings are a resilient
lot, and Jennifer is no exception. As prophecies of the impending death
of the last living dragon begin to multiply, Jennifer and her loyal
companion the Quarkbeast set out on a mission to save the day, and the
agency, and possibly the world as they know it!" ~Heather
— Heather is our Tattered Cover Director of Marketing & the No.1 Fforde fan
Fall '12 Kids List
---
"As acting head of Kazam, an employment agency for magicians, orphan Jennifer Strange's life is already full of magical mayhem. When a prophecy proclaiming the death of the last dragon pops up, Jennifer may get a little more destiny than she bargained for. A chuckle-worthy page-turner for readers of all ages, Fforde's first young adult offering succeeds brilliantly with brains, heart, and a little bit of magic!"
— Jennifer Gough, Ebenezer Books, Johnson, VT
Description
---
In the good old days, magic was indispensable; it could both save a kingdom and clear a clogged drain. But now magic is fading. Drain cleaner is cheaper than a spell, and magic carpets have been reduced to pizza delivery. Fifteen-year-old foundling Jennifer Strange runs Kazam Mystical Arts Management, an employment agency for magicians -- but it's hard to stay in business when magic is drying up. And then the visions start, predicting the death of the world's last dragon at the hands of an unnamed Dragonslayer. If that's true, everything will change for Kazam -- and for Jennifer. Because something is coming. Something known as . . . Big Magic.