The Hate U Give (MP3 CD)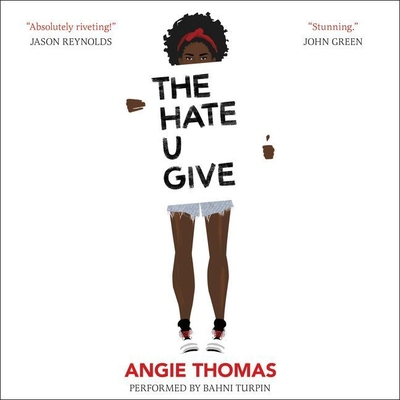 Staff Reviews
---
This book gives voice to the struggles of people of color. Starr's voice speaks louder than words on the page as you get sucked into this story that is a rush of reality. Comprised of friendships, family, and the belief in her the strength of her voice, Starr brings a YA take on racism and racial issues. 
— Zoe J., Tattered Cover Teen Advisory Board member
Listening to the audiobook brings this experience to a whole new level. A new dimension, really. Don't miss Bahni Turpin reading this! This is such an important book. It should be required reading for life in general. Or listening. Definitely listening.
— Kristen Gilligan, Co-owner, Tattered Cover
Description
---
Sixteen-year-old Starr Carter moves between two worlds: the poor black neighborhood where she lives and the fancy suburban prep school she attends. The uneasy balance between these worlds is shattered when Starr witnesses the fatal shooting of her childhood best friend, Khalil, at the hands of a police officer. Khalil was unarmed.Soon afterward, Khalil's death is a national headline. Some are calling him a thug, maybe even a drug dealer and a gangbanger. Starr's best friend at school suggests he may have had it coming. When it becomes clear the police have little interest in investigating the incident, protesters take to the streets and Starr's neighborhood becomes a war zone. What everyone wants to know is: What really went down that night? And the only person alive who can answer that is Starr.But what Starr does--or does not--say could destroy her community. It could also endanger her life.