Love Saves the Day (MP3 CD)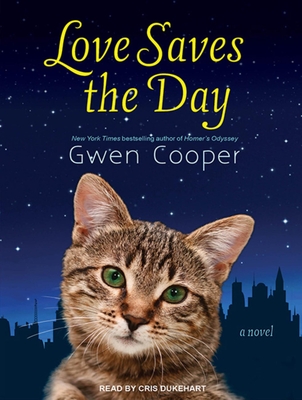 Description
---
When five-week-old Prudence, a brown tabby, meets a woman named Sarah in a deserted construction site on Manhattan's Lower East Side, she knows she's found the human she was meant to adopt. For three years their lives are filled with laughter, tuna, catnaps, music, and the unchanging routines Prudence craves. Then one day Sarah doesn't come home. From Prudence's perch on the windowsill she sees Laura, the daughter who hardly ever comes to visit Sarah, arrive with her new husband. They're carrying boxes. Before they even get to the front door, Prudence realizes that her life has changed forever.Suddenly Prudence finds herself living in a strange apartment with humans she barely knows. It could take years to train them in the feline courtesies and customs (for example, a cat should always be fed before the humans, and at the same exact time every day) that Sarah understood so well. Prudence clings to the hope that Sarah will come back for her, while Laura, a rising young corporate attorney, tries to push away memories of her mother and the tumultuous childhood spent in her mother's dusty downtown record store. But the secret joys, past hurts, and life-changing moments that make every mother-daughter relationship special will come to the surface. With Prudence's help, Laura will learn that the past, like a mother's love, never dies.Poignant, insightful, and laugh-out-loud funny, Love Saves the Day is a story of hope, healing, and how the love of an animal can make all of us better humans. It's the story of a mother and daughter divided by the turmoil of bohemian New York, and the opinionated, irrepressible feline who will become the bridge between them. It's a novel for anyone who's ever lost a loved one, wondered what their cat was really thinking, or fallen asleep with a purring feline nestled in their arms. Prudence, a cat like no other, is sure to steal your heart.
About the Author
---
Gwen Cooper is the "New York Times" bestselling author of the novel "Diary of a South Beach Party Girl "and the memoir "Homer's Odyssey," 10 percent of her royalties from which she donates to organizations that serve abused, abandoned, and disabled pets.

An award-winning storyteller and a graduate of Johns Hopkins University, Cris Dukehart has narrated books in a plethora of genres, from romance, science fiction, and young adult to children's literature and autobiography. Her voice, with an endearing mix of sweetness and pluck, can be heard around the world and across the Web in commercials, e-learning projects, and corporate narrations.
Praise For…
---
"Once again, Gwen Cooper shines her light on the territory that defines the human/animal bond. In Love Saves the Day, she creates an emotional landscape so beautifully complete that we can't help but share in the heartbreaks and triumphs of her characters, regardless of their species." ---Jackson Galaxy, author of Cat Daddy