Games People Play: The Basic Handbook of Transactional Analysis (Compact Disc)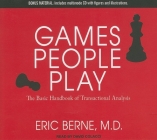 Description
---
Over forty years ago, Games People Play revolutionized our understanding of what really goes on during our most basic social interactions. More than five million copies later, Dr. Eric Berne's classic is as astonishing and revealing as it was on the day it was first published.We play games all the time-sexual games, marital games, power games with our bosses, and competitive games with our friends. Detailing status contests like "Martini" (I know a better way), to lethal couples combat like "If It Weren't For You" and "Uproar," to flirtation favorites like "The Stocking Game" and "Let's You and Him Fight," Dr. Berne exposes the secret ploys and unconscious maneuvers that rule our intimate lives.Explosive when it first appeared, Games People Play is now widely recognized as the most original and influential popular psychology book of our time. It's as powerful and eye-opening as ever.
About the Author
---
D'abord medecin comme son pere, il se tourne vers la psychiatrie et exerce aux Etats-Unis. A partir de 1946 il est psychiatre dans differents hopitaux a San Francisco et ouvre son cabinet de psychanalyste a Carmel, Californie. En 1956, il demande sa reconnaissance comme psychanalyste et il n'est pas accepte. Ce refus sera pour lui un aiguillon pour formaliser sa propre maniere de travailler et ajouter quelque chose de nouveau a la psychanalyse. Ses travaux donneront naissance a l'Analyse transactionnelle.

David Colacci has been an actor and a director for over thirty years, and has worked as a narrator for over fifteen years. He has won AudioFile Earphones Awards, earned Audie nominations, and been included in Best of Year lists by such publications as Publishers Weekly, AudioFile magazine, and Library Journal.
Praise For…
---
"An important book...a brilliant, amusing, and clear catalogue of the psychological theatricals that human beings play over and over again." ---Kurt Vonnegut Jr., Life magazine