Never Say Die: The Myth and Marketing of the New Old Age (Compact Disc)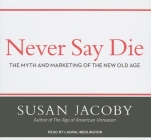 $95.99
Usually Ships in 1-5 Days
Description
---
In a narrative that combines the intensely personal with social, economic, and historical analysis, Susan Jacoby turns an unsparing eye on the marketers of longevity pharmaceutical companies, lifestyle gurus, and scientific businessmen who suggest that there will soon be a "cure" for the "disease" of aging. She separates wishful hype from realistic hope in a wide-ranging appraisal of subjects that include the explosion of Alzheimer's cases, the impact of possible cuts in Social Security on the economic future of aging boomers, and the fact that women make up most of the "oldest old." Finally, Jacoby raises the fundamental question of whether living longer is a desirable thing unless it means living better, and she considers the profound moral and ethical concerns raised by increasing longevity.Never Say Die is a lucid, provocative, and powerful argument that Americans, no matter their age, are doing themselves no favor by buying into the myth that they can stay "forever young.
About the Author
---
Susan Jacoby is the bestselling author of almost a dozen books, including "Freethinkers: A History of American Secularism".

Laural began working in regional theater as an actor at the age of 17. She has done over 20 years of stage work, and 16 years of audio book narration, having narrated over 100 titles in all genres. In addition, Laural has directed well over 100 audio titles, providing expertise on both sides of the microphone. In acknowledgement for years of excellence at her craft, Laural has received AudioFile's 'Earphones Award' many times over.
Praise For…
---
"Drawing on research, personal experience, and anecdotes, [Jacoby] offers an important reality check for Americans enamored of the images of healthy, active seniors featured in advertisements." ---Booklist Starred Review