The Christmas Box: 20th Anniversary Edition (Hardcover)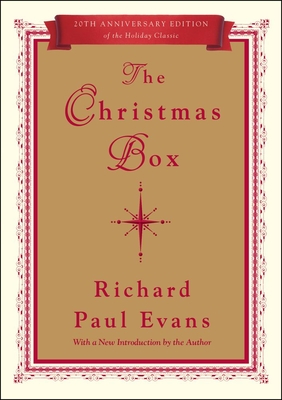 $14.99
Usually Ships in 1-5 Days
Description
---
A special anniversary edition of the unforgettable Christmas classic that has touched the hearts of millions of readers: "the most popular holiday tale since Tiny Tim" (Newsweek).
Since The Christmas Box was first published, more than eight million people around the world have been touched by its magic. It is a holiday classic that is as beloved in our time as A Christmas Carol was in Dickens's.
This special 20th Anniversary Edition contains a new Introduction by the author, explaining how this personal tribute to his children, intended for just a few family members and friends, became a worldwide phenomenon that brings inspiration and healing to everyone who reads it. As he reiterates his intention to remind families of the preciousness of their love for each other, Evans explains how The Christmas Box has also helped children who have no families find love and hope. The miracle of The Christmas Box springs from its timeless message that knows no season.
***
This was the meaning of the Christmas Box, that someday I would turn around and my little girl would be gone . . .
How quickly the time has passed. Today those two little girls for whom I wrote The Christmas Box are adults. What hasn't changed is the relevance of my little story. Now, just as it was a thousand years ago and will be a thousand years from now, parents still look at their children and feel their hearts breaking a little, knowing that the only promise of childhood is that someday it will be gone. It is my deepest hope that, for centuries to come, the message of The Christmas Box will endure as a reminder of the sanctity and holiness of a parent's love. God Bless and Merry Christmas.
--From the Introduction to the 20th Anniversary Edition.
Praise For…
---
"The most popular holiday tale since Tiny Tim."—Newsweek