Crazy for the Storm: A Memoir of Survival (Compact Disc)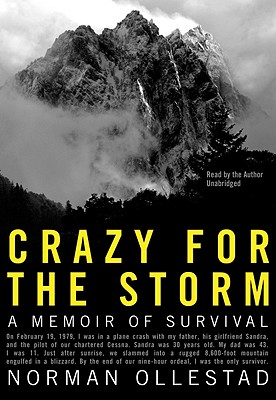 Please email or write store for pricing and availability information.
Summer '10 Reading Group List
---
"Norman Ollstad's memoir of surviving a plane crash, in a howling winter storm high on the side of Ontario Peak in Southern California, is not merely a gripping story of an 11-year old boy's survival, but the bitter tale of a son's struggling to comprehend his father's death, the heroic story of his efforts, ultimately futile, to save his father's injured girl friend, and the saga of his wildly improbably descent of the mountain under horrendous conditions through astonishing presence of mind and perseverance. Greatly enriching this fascinating and well written account of survival are alternating chapters describing young Norman's complicated and confusing life growing up with his divorced mother and her live-in boyfriend on Topanga Beach, and his love-hate relationship with his proud and demanding father who, on skiing and surfing adventures in California and Mexico, constantly pushes him to--and sometimes beyond--the limits of his young physical and mental abilities. Struggling with post-survival guilt and the confusion of early adolescence, Norman comes to realize that it was the adversity his father made him confront that gave him the skills with which he survive his ordeal. The story's final challenge comes on a skiing trip to Mammoth Mountain, where his own father often took him as a boy, when the now grown Norman must confront the hopes he has for his own son, and decide how close to push him towards that thin line between safety and danger where lessons are learned. IN SUMMARY: Written in simple, almost matter-of-fact, but elegant prose, Crazy for the Storm is a coming-of-age story like you've never read, full of tragedy, beauty, struggle, adventure, and life-lessons--highly recommended for both adults and young adults, especially fathers and sons."
— Gary Colliver, Windows on the World-Books & Art, Mariposa, CA
June 2009 Indie Next List
---
"Crazy for the Storm is a riveting account of survival. Norman Ollestad weaves the story of his unconventional early childhood and the details of a horrible airplane crash into a brilliant tribute to his adventurous father."
— Jamie Robinson, Bestsellers Books & Coffee Co., Mason, MI
Description
---
Eleven-year-old Norman had been coached by his father for competitive sports from a very young age. But when their private plane crashed in the mountains, killing his father, Normans skills were put to the ultimate test.