The Hour of Peril: The Secret Plot to Murder Lincoln Before the Civil War (Compact Disc)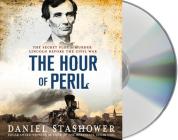 $39.99
Usually Ships in 1-5 Days
February 2013 Indie Next List
---
""
— Jim McFarlane, Fiction Addiction, Greenville, SC
Description
---
"It's history that reads like a race-against-the-clock thriller."--"Harlan Coben"
Daniel Stashower, the two-time Edgar award-winning author of "The Beautiful Cigar Girl," uncovers the riveting true story of the "Baltimore Plot," an audacious conspiracy to assassinate Abraham Lincoln on the eve of the Civil War.
In February of 1861, just days before he assumed the presidency, Abraham Lincoln faced a "clear and fully-matured" threat of assassination as he traveled by train from Springfield to Washington for his inauguration. Over a period of thirteen days the legendary detective Allan Pinkerton worked feverishly to detect and thwart the plot, assisted by a captivating young widow named Kate Warne, America's first female private eye.
As Lincoln's train rolled inexorably toward "the seat of danger," Pinkerton struggled to unravel the ever-changing details of the murder plot, even as he contended with the intractability of Lincoln and his advisors, who refused to believe that the danger was real. With time running out Pinkerton took a desperate gamble, staking Lincoln's life--and the future of the nation--on a "perilous feint" that seemed to offer the only chance that Lincoln would survive to become president. Shrouded in secrecy--and, later, mired in controversy--the story of the "Baltimore Plot" is one of the great untold tales of the Civil War era, and with "The Hour of Peril "Stashower has crafted a spellbinding historical narrative with the pace and urgency of a race-against-the-clock thriller.
A "Washington Post "Notable Nonfiction Book of 2013
Winner of the 2014 Edgar Award for Best Fact Crime.
About the Author
---
Daniel Stashower is coeditor, with Jon Lellenberg, of "Arthur Conan Doyle: A Life in Letters".
Fred Berman is a five-time winner of the "AudioFile" Earphone Award for Audiobook Narration and the recipient of the 2013 Audie Award for narration in "Spy the Lie". He has read a number of audiobooks for young listeners, including Judy Blume's "Soupy Saturdays with The Pain & The Great One" and Andrew Clements's "The Last Holiday Concert". He has also narrated the audiobooks for Robert Kirkman's popular series, "The Walking Dead."
Berman is an accomplished actor of both the stage and screen as well, performing on Broadway as Timon in "The Lion King" and off-Broadway in "Hamlet", "Twelfth Night", and "King Lear". On television, Berman has had roles on NBC's hit series "Smash" as well as "All My Children "and "Law and Order". He lives in New York City.
Edoardo ballerini was nominated for a 2012 Audie Award for his recording of The Land of Laughs. He has also received four Earphones Awards from AudioFile Magazine. On screen, Edoardo is best known for his work in the television series The Sopranos, Boardwalk Empire, and 24, as well as the films Dinner Rush and Romeo Must Die.
Praise For…
---
"Lively writing and lively reading make The Hour of Peril worth hearing…Narrator Edoardo Ballerini's performance fits well with the author's thriller-style approach to the story. Ballerini does an excellent job of using inflection to differentiate between Stashower's writing and quotes from other documents, such as books and newspapers." – Audiofile Magazine
"Nicely read by Edoardo Ballerini, both story and voice steadily build to a suspenseful denouement." – The Star-Ledger
"[Ballerini] keeps a light foot on the pedal, skillfully maintaining a quick pace and a sustainable level of suspense…This historical account surprises at every turn, and Ballerini's fine reading maintains listener interest in a well-researched book." – Booklist