Though Not Dead: A Kate Shugak Novel (Compact Disc)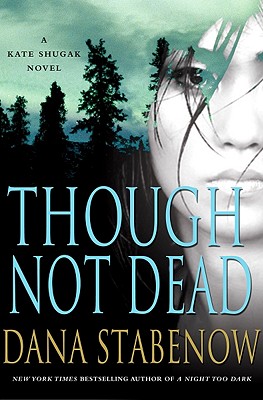 Description
---
The residents of Alaska's largest national park are stunned by the death of one of their oldest members, eighty-seven-year-old Old Sam Dementieff Even private investigator Kate Shugak. Sam, a lifelong resident, dubbed the "father" of all of the Park rats--even though he had no children of his own--was especially close to Kate, his niece, but even she is surprised to discover that in his will he's left her everything, including a letter instructing her simply to, "find my father."
Easier said than done, since Sam's father is something of a mystery. An outsider, he disappeared shortly after learning about Sam's existence, taking with him a priceless tribal artifact, a Russian icon. And in the three days after Kate begins her search through Sam's background, she gets threatened--and worse.
The flashbacks from Sam's fascinating life, including scenes from major events in Alaska's colorful history, punctuate a gripping story in which Kate does her best to fulfill Sam's last wish without losing her own life to the people who are following her every move, though what they are searching for Kate doesn't even know.
In Dana Stabenow's breathtaking new novel, "Though Not Dead," the eighteenth to feature Kate Shugak, Kate's search for the long-lost family secrets that have been interwoven with the epic history of an unforgiving land leads to an extraordinary treasure hunt with fatal consequences.
About the Author
---
Dana Stabenow is the "New York Times" bestselling author of the Kate Shugak mysteries and the Liam Campbell mysteries, as well as a few science fiction and thriller novels. Her book "A Cold Day for Murder" won an Edgar Award in 1994. Stabenow was born in Anchorage, Alaska and raised on a 75-foot fish tender in the Gulf of Alaska. She has a B.A. in journalism and an M.F.A. in writing from the University of Alaska. She has worked as an egg counter and bookkeeper for a seafood company, and worked on the TransAlaska pipeline before becoming a full-time writer. She continues to live in Alaska.
Praise For…
---
"Marguerite Gavin's performance will make instant fans of those new to the Kate Shugak series. Gavin gives Alaskan Kate the perfect no-nonsense attitude as she and her half-wolf sidekick, Mutt, butt heads with her newest mystery." – Audiofile Magazine
"Marguerite Gavin gives an excellent reading of Stabenow's prose: she keeps the story moving at an energetic clip, which works especially well with the action sequences. With a nice sense of timing, she brings out the laugh-out-loud humor laced through the book, most notably in the scenes between Kate and her 'Aunties,' and manages to balance the book's extensive cast of characters, shifting points of view, time frames, and passages of Alaskan history with a bright, engaging performance that keeps the listener tuned in from the introduction to the final chapter." – Publishers Weekly
"Series narrator Marguerite Gavin does an excellent job of reading this novel. Her clear and articulate voice brings out the characters' diverse personalities, native accents, and speech patterns. For all Kate Shugak fans." – Library Journal
Praise for Dana Stabenow

"Stabenow is blessed with a rich prose style and a fine eye for detail… It's an outstanding series and one that has, in fact, won awards and begun to turn up on bestseller lists here in the Lower 48. If you've never visited Alaska, it's also an intriguing introduction to that big, brawling, rather bewildering state."
—The Washington Post on A Night Too Dark

"Kate Shugak, the Aleut private eye, demonstrates why she is considered one of the best among female sleuths in A Night Too Dark."
—San Diego Union-Tribune on A Night Too Dark

"Grade: A. Some of the greatest mystery writers enrich us with their wonderful sense of place. Stabenow is one of them: Alaska's answer to Tony Hillerman, she brings us the sights and sounds that few visitors will ever know....If you haven't discovered Stabenow yet, start here—then go back to A Cold Day for Murder and enjoy the whole story."
—Rocky Mountain News on Whisper to the Blood

"One of the best… A dynamite combination of atmosphere, action, and character."
­—Booklist (starred review) on Whisper to the Blood

"When I'm casting about for an antidote to the sugary female sleuths...Kate Shugak, the Aleut private investigator in Dana Stabenow's Alaskan mysteries, invariably comes to mind."
—The New York Times on A Deeper Sleep