Whisper to the Blood: A Kate Shugak Novel (Compact Disc)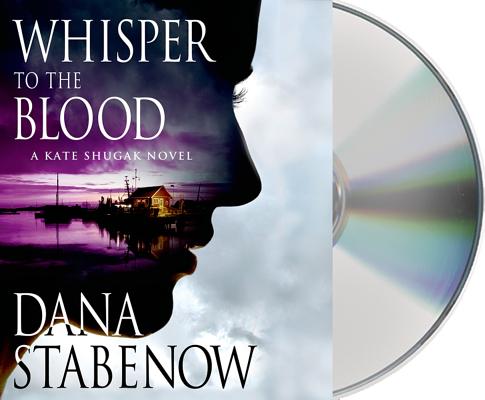 Description
---
Inside Alaska's biggest national park, surrounding the town of Niniltna, a gold mining company has started buying up land. The residents of the Park, are uneasy. "But gold is up to nine hundred dollars an ounce," is the refrain of Talia Macleod, the popular Alaskan skiing champ the company hired to improve their relations with Alaskans. And she promises much needed jobs to the locals. 
But before she can make her way to every village in the area to make her case at town meetings and village breakfasts, there are two murders—one a long-standing mine opponent, and Ms. Macleod herself. Between that and a series of attacks on snow mobilers up the Kanuyaq River, not to mention the still-open homicide of Park villain Louis Deem last year, part-time P.I. and newly elected chairman of the Niniltna Native Association Kate Shugak has her hands very much full. 
About the Author
---
New York Times bestseller and Edgar Award winner DANA STABENOW is the author of fifteen previous Kate Shugak novels, three Liam Campbell mysteries, three science fiction novels, and two thrillers. She also occasionally writes for Alaska magazine. She was born, raised, and lives in Alaska where in 2007 she was awarded the Governor's Award for the Arts and Humanities.
Praise For…
---
"Gavin superbly masters the pronunciation of native names and places as well as the cadence of native speakers, making this title an exquisite listening pleasure." – AudioFile, Earphones Award winner
 "Featuring highly original and well-drawn characters, the novel is yet another triumph for author Stabenow and an excellent platform for narrator Marguerite Gavin to showcase her talent. Her emotionally charged and intimate reading moves seamlessly from suspenseful scenes to Kate's domestic drama with her foster son and state trooper boyfriend. Through every plot twist, Gavin keeps listeners tightly hooked and empathetic toward to the characters."--
Publishers Weekly
 Past praise for Marguerite Gavin's narration of the Kate Shugak series:"Gavin's multi-voiced reading is quite fine. She handles the Native American characters realistically and reveals Kate Shugak to be the painstaking, uncompromising character readers have come to expect."--
KLIATT
on
A Taint in the Blood
 "Gavin does justice to the complex character of Kate and those who enter her sphere...[her] rather gravelly voice reflects Kate's untamed nature."--
Booklist
on
The Singing of the Dead
 "Reader Marguerite Gavin has a sonorous voice, rich and full of emotion; she easily delivers the wry humor that is so much a part of a Kate Shugak book. Gavin moves smoothly from accent to accent without hesitation, recalling multiple characters perfectly and bringing to life a main character you wouldn't mind being snowed in with for a few days."--
AudioFile
on
The Singing of the Dead
 "Gavin's rendering of Kate is exceptional, along with her tackling of various German accents. Listeners will find themselves tingling with fright as they are stalked alongside Kate."--
AudioFile
on
Hunter's Moon
 "Marguerite Gavin has found a voice for Kate that captures--without being grating--a voice frazzled and nearly silenced in the violent struggle that caused Kate to leave her job as an investigator for the Anchorage D.A.'s office."--
AudioFile
on
A Cold Day for Murder