A Wolf at the Table: A Memoir of My Father (Compact Disc)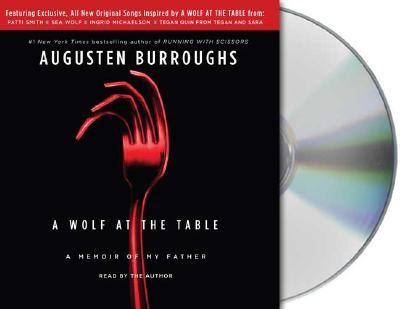 Description
---
Nominated for the 2009 Audiobook of the Year
"As a little boy, I had a dream that my father had taken me to the woods where there was a dead body. He buried it and told me I must never tell. It was the only thing we'd ever done together as father and son, and I promised not to tell. But unlike most dreams, the memory of this one never left me. And sometimes...I wasn't altogether sure about one thing: was it just a dream?"""
When Augusten Burroughs was small, his father was a shadowy presence in his life: a form on the stairs, a cough from the basement, a silent figure smoking a cigarette in the dark. As Augusten grew older, something sinister within his father began to unfurl. Something dark and secretive that could not be named.
Betrayal after shocking betrayal ensued, and Augusten's childhood was over. The kind of father he wanted didn't exist for him. This father was distant, aloof, uninterested...
And then the "games" began.
With "A Wolf at the Table, " Augusten Burroughs makes a quantum leap into untapped emotional terrain: the radical pendulum swing between love and hate, the unspeakably terrifying relationship between father and son. Told with scorching honesty and penetrating insight, it is a story for anyone who has ever longed for unconditional love from a parent. Though harrowing and brutal, "A Wolf at the Table" will ultimately leave you buoyed with the profound joy of simply being alive. It's a memoir of stunning psychological cruelty and the redemptive power of hope.
About the Author
---
AUGUSTEN BURROUGHS is the "New York Times" bestselling author of "Possible Side Effects, Magical Thinking," "Dry," "Running with Scissors," and "Sellevision." He lives in New York City and Amherst, Massachussetts.

Performer/poet PATTI SMITH and daughter Jesse Smith collaborated with songwriter Michael Campbell in their response to "A Wolf at the Table." The song, "The Only Time," is an effort to capture the mood of the memoir by Augusten Burroughs, while maintaining a hopeful undercurrent.INGRID MICHAELSON's self-released album of quirky, pop gems, "Girls and Boys," gained attention when her songs including, "The Way I Am," were featured on the show, "Grey's Anatomy." With her music now a fixture on the Billboard and iTunes charts, Ingrid continues to have unprecedented success as a do-it-yourself artist.Named after Jack London's 1904 novel, Los Angeles' SEA WOLF is the nom de plume for singer/songwriter Alex Brown Church and the orchestral indie rock he creates. His debut LP, "Leaves In The River," was released last year on Dangerbird Records to critical acclaim. Touring the country with label mates Silversun Pickups and veterans "Nada Surf," the band made its national television debut on "Jimmy Kimmel Live."Although she is currently spending a dysfunctional amount of time touring the world with her indie pop band, TEGAN QUIN from Tegan and Sara, is a bookworm who lives and writes songs in Vancouver, Canada. "His Love" was recorded in her home studio/library.
Praise For…
---
"Intense, sincere, and passionate, Burroughs offers a deeply felt, intimate portrait of the most disastrous period in his life. He holds nothing back, and in fully giving voice to his emotions, he makes each moment immediate for the listener." - AudioFile
"In audiobook form, Burroughs's memoir is an unforgettable experience that will resonate with many." - Library Journal, Starred Review
"...There are books that were born for bells and whistles, and Augusten Burrough's
Wolf at the Table
is one. This fifth memoir of abuse and excess is read, bleated, rumbled and, at times, tearfully shouted by the author himself. The audio book includes sound effects and occasional instrumental music, and it breaks new ground by presenting four songs written expressly for the productions. There is one each from Patti Smith, Ingrid Michaelson, Sea Wolf and Tegan Quin." -
Washington Post
"I felt that because this book is different than anything I have written before, it deserved a very unique, special treatment and production."—Augusten Burroughs on A Wolf at the Table
"I wanted an audiobook for the iPod generation – for people who love books but also love music and film. I wanted to bring the book to life as fully as possible."
—
Augusten Burroughs on
A Wolf at the Table
in
Publishers Weekly
"Bestselling author Burroughs has written a brutally frank memoir about his father – his difficult, distant, miserable father – which he reads himself, effectively. Original music by Patti Smith, Sea Wolf, Ingrid Michaelson and Tegan Quin – composed for this audiobook – graces the final CD." – Canada.com
Past Praise for Augusten Burroughs:
"A flawless audio adaptation of his alternately riotous and heartbreaking memoir." —Publishers Weekly on Running with Scissors
"[Burroughs's] performance blends self-deprecating black humor with wise-cracking confidence. His natural (or hard-learned) wit and charm keep the listener rooting for his success." —AudioFile on Dry