Tigers Forever: Saving the World's Most Endangered Big Cat (Hardcover)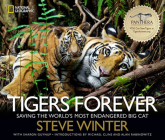 $40.00
Usually Ships in 1-5 Days
Description
---
Tigers are in trouble, and"National Geographic"photographer Steve Winter is on a one-man mission to address the plight of this magnificent cat while there's still time.Together with Panthera, the world's largest nonprofit organization dedicated to saving big cats, and its Tigers Initiative, Winter reveals a decade worth of stunning images and stories of tigers in their world. In"Tigers Forever, "readers follow Winter through Myanmar's leech-infested jungles in search of tigers; into the forbidden realm of poachers in Sumatra; and witness the breathtaking intimacy between a tiger mother and her cub. Winter's gripping images, along with co-author Sharon Guynup's eloquent prose, tell the dramatic story of the tiger's fight for survival, and the lengths to which one man would go to bring that story to the world. Above all else, "Tigers Forever"reveals the tiger itself: elusive, majestic, ferocious, powerful, mysterious and in desperate need of our help to survive.
About the Author
---
Bro.Steve Winter DD has been teaching Bible based true Oneness, Pentecostal, Apostolic Christianity for many years. You will find his studies will pass the Bible test though they might shock you at first. The Gospels are a history before the Church started. The Book of Acts shows the birth of the Church and early practices. The epistles are letters written to those who had obeyed Acts 2:38 to become Christians. In 2014 Bro Winter was awarded a Doctor of Divinity by Apostolic Theological Seminary New Delhi in part because of this book.

SHARON GUYNUP has worked as a science and environmental writer for National Geographic News Service (in collaboration with The New York Times Syndicate), Audubon, Popular Science, and other publications, and has edited for Scientific American. She worked as a professional photographer for 20 years and has traveled widely on assignment.
Praise For…
---
"A monumental achievement in prose and images. The book is so riveting—nothing short of a hymn about the most endangered of all the big cats—that no reader could conceive of a world without them."—Tom Lovejoy, conservation biologist

"Vivid descriptions and imagery...retell a tale from deep within the jungle." —Public Library Of Science

"Raise[s] an alarm about the state of this imperiled species  ." -WhoWhatWhy.com

"Yes, photographer Steve Winter captures the sheer awe, beauty and power of one of the Earth's most majestic creatures....That's an understatement. But what adds to the book's obvious visual appeal is how Winter and freelance writer Sharon Guynup...get to the heart of what all great journalism is about: Why it matters."—TOM HENRY, environment writer, The Toledo Blade 

"If you read only one book about species on the verge of extinction today, this is the one to read. Steve Winter's gorgeous photos of majestic tigers, coupled with Sharon Guynup's moving stories of why they are declining tells it all. We learn about the men and women dedicated to protecting the 3,500 tigers left in the wild and what we can do to help. Winter manages to capture the very essence of tiger in his stunning photographs. Beautiful book in every way." Jane Alexander, actor and conservationist