Mission to Mars: My Vision for Space Exploration (Hardcover)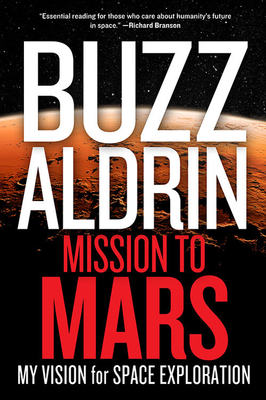 $26.00
Usually Ships in 1-5 Days
Description
---
"Any time an Apollo-era astronaut steps forward with ideas for our future in space, it's time to stop what whatever we're doing and pay attention. Buzz Aldrin, one of the first moonwalkers, has no shortage of these ideas. And in Mission to Mars he treats us to how, when, and why we should travel there." --Neil deGrasse Tyson Legendary "space statesman" Buzz Aldrin speaks out as a vital advocate for the continuing quest to push the boundaries of the universe as we know it. As a pioneering astronaut who first set foot on the moon during mankind's first landing of Apollo 11--and as an aerospace engineer who designed an orbital rendezvous technique critical to future planetary landings--Aldrin has a vision, and in this book he plots out the path he proposes, taking humans to Mars by 2035. Foreword by Andrew Aldrin
Chapter 1: The View from Air Force One
Chapter 2: Time for Decision-making
Chapter 3: Your Space: Building the Business Case
Chapter 4: Dreams of My Moon
Chapter 5: Voyage to Armageddon
Chapter 6: The March to Mars
Chapter 7: Homesteading the Red Planet
Chapter 8: The Clarion Call.
About the Author
---
BUZZ ALDRIN, best known for his Apollo 11 moonwalk, holds a doctorate degree in astronautics and, at the age of 82, continues to wield influence as an international advocate of space science and planetary exploration. He has written three nonfiction books, two science fact/fiction novels, and two children's books. Co-author LEONARD DAVID is a veteran space journalist and winner of the 2010 National Space Club Press Award.
Praise For…
---
"Colonizing space is essential for the long term survival of the human race, and Buzz Aldrin's book shows us how." —Stephen Hawking
 
"Buzz Aldrin has been as far from Earth as any human being, and now he's leading the charge to go much farther, to our next epic destination: Mars." —James Cameron
 
"Any time an Apollo-era astronaut steps forward with ideas for our future in space, it's time to stop what whatever we're doing and pay attention. Buzz Aldrin, one of the first moonwalkers, has no shortage of these ideas. And in Mission to Mars he treats us to how, when, and why we should travel there." —Neil deGrasse Tyson

"Buzz is one of the foremost forward thinkers of our time and this book will be essential reading for those who care about humanity's future in space." —Richard Branson 

"Although the lunar landing is decades behind him, Dr. Aldrin is just plain passionate about humankind's exploration of space. An extraordinary pilot, scuba diver, moonwalker, and the first man to board a spacecraft on its way back to Earth, he advises us to keep going— farther and deeper into space. Page by page, this book makes you want to slide into your space suit and light your engines." —Bill Nye, The Science Guy®

"A masterful array of strategies for exploration by a true space expert and patriot." —Michael Collins, astronaut and command module pilot, Apollo 11
 
"Aldrin calls for systematic investment to establish a cycle of transportation and sustained, permanent settlements on the Red Planet." --NPR "Talk of the Nation"

"Mission to Mars is pure Buzz: creative ideas flying off the pages, a big picture view of how to move forward, and a laser-like focus on why space exploration is key to humanity's future. Buzz Aldrin has been making major contributions to the U.S. space program for a half century, and his new book continues that tradition." —John M. Logsdon, founder of the Space Policy Institute and professor emeritus, The George Washington University
 
"I've traveled to the North Pole with Buzz, and if I were to travel to Mars I can't think of a better person to plan the trip than he. Sign me up!" —Norm Augustine, Chairman, U.S. Human Spaceflight Review Committee
 
"Buzz Aldrin's Mission to Mars presents a bold, inviting plan to colonize Mars. His call that the 'Earth isn't the only world for us anymore' is incontrovertible." —Roger D. Launius, Senior Curator, Division of Space History, National Air and Space Museum

"No one's given more thought to Mars exploration than Buzz Aldrin— a hero whose legacy as one of the first men on the moon may well be eclipsed by his contributions to engineering our future in space." —Elliot Holokauahi Pulham, CEO, The Space Foundation

"Mission to Mars is a white paper for getting us back on track, complete with math, science, and diagrams—though Aldrin and his coauthor put it all together with clear and quick-moving prose." --The Weekly Standard

"There are places to go beyond belief, and this book is the call to get there." —Chris Lewicki, President & Chief Asteroid Miner, Planetary Resources

"Aldrin's hand-drawn diagrams throughout the book offer a uniquely human glimpse at what must be going through an astronaut's mind as he looks up at the night sky." --Washington Post

"A blend of reminisces, snippets of mission and policy concepts, and revisited analyses of the space landscape to-date." —Space Safety Magazine

"A detailed, multi-stage plan for journeying to the red planet that would culminate in the first permanent human settlement beyond the Earth." --Smithsonian Magazine

"Aldrin wants to inspire the next generation." -- International Business Times 

 "A critique of current space policy, examining the economic, political and technological viability of various options to explore the solar system." --ZeeNews.com

 "While the title focuses on Mars, the book covers much more...What Aldrin calls his "unified vision" could provide a timeline of crewed missions to Mars between 2035-2040." --Universe.com

 "Aldrin's new book [charts] a course that could put astronauts on the surface of Mars by 2035." --MSNBC

"[Aldrin] believes the time has come to broaden our horizons- and rediscover once again the spirit of exploration." --BeforeItsNews.com

"Aldrin outlines his vision for the permanent human settlement of Mars." --EuroNews.com