Inside China (Hardcover)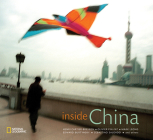 $50.00
Usually Ships in 1-5 Days
Description
---
China's emergence as an economic and cultural giant reigns as a key international story of our time. In an unprecedented visual tour de force, National Geographic chronicles this astonishing ascent through some of the most eye-opening, evocative, and extraordinary pictures ever recorded of the enigmatic nation, past and present.
Exotic China has always attracted great photographers, and its history has yielded unforgettable scenes. "Inside China" unveils fascinating archival images rarely made public: Luminaries Henri Cartier-Bresson and Marc Riboud portray the old order and the ascendancy of Chairman Mao; Chinese news photographer Li Zhensheng gives startling new insight into the harsh Cultural Revolution. Today's China, filled with excitement and fraught with challenge, is captured by contemporary photographers including Mark Leong, Paolo Pellegrin, and Mark Henley who, with privileged access, depict fashionable youth and glamour, the development of mega-industry, and new materialism alongside traditional religion and rural life, revealing the rapidly changing scene in all its complexity. Five renowned experts on China Jonathan Spence, James Watt, James MacGregor, Elizabeth Economy, and Minxin Pei narrate and enrich the story with informative, thought-provoking essays.
China will continue to attract global attention as the country prepares to host the 2008 Summer Olympics and the 2010 World's Fair. This unprecedented book, an integral part of National Geographic's initiative on China, holds great appeal for photography and history enthusiasts, as well as the wider general audience craving a deeper cultural and historical perspective of this intriguing nation.
About the Author
---
Jonathan Spence is Sterling Professor of History at Yale University. Considered one of the foremost experts on modern China, Spence is the author of a distinguished body of work, including the seminal book. The Search for Modern China (1990)

Economy is the Fellow for China and Deputy Director of the Asia Studies Program at the Council on Foreign Relations. She directs Council projects on Ais and the environment and U.S.-China relations. She also co-chairs the Woodrow Wilson Center working group on China and the Environment.

Joseph Fewsmith is Professor of International Relations and Political Science at Boston University. He is the author of China since Tiananmen: From Deng Xiaoping to Hu Jintao (2008), which is the second edition of China since Tiananmen (2001); Elite Politics in Contemporary China (2001); The Dilemmas of Reform in China: Political Conflict and Economic Debate (1994); and Party, State, and Local Elites in Republican China: Merchant Organizations and Politics in Shanghai, 1980 1930 (1985). He is the editor of China Today, China Tomorrow (2010) and co-editor, with Zheng Yongnian, of China's Opening Society (2008). He is very active in the China field, traveling to China frequently and presenting papers at professional conferences such as the Association for Asian Studies and the American Political Science Association. His articles have appeared in such journals as The China Quarterly, Asian Survey, The Journal of Contemporary China, Modern China and Comparative Studies in Society and History. He is one of seven regular contributors to China Leadership Monitor, a quarterly web publication analyzing current developments in China. He is also an associate of the John King Fairbank Center for East Asian Studies at Harvard University and of the Pardee Center for the Study of the Longer Range Future at Boston University.