Artemis Fowl: The Eternity Code: The Graphic Novel (Hardcover)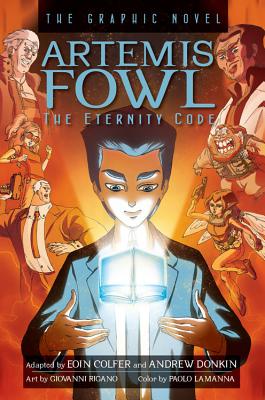 Description
---
Artemis Fowl is going straight...as soon as he pulls off the most brilliant criminal feat of his career. But his last job plan goes awry, leaving his loyal bodyguard, Butler, mortally injured. Artemis's only hope of saving his friend is to enlist the help of his old rival, Captain Holly Short of the LEPrecon fairy police. It is going to take a miracle to save Butler, and Artemis's luck may have just run out. . .
Praise for "Artemis Fowl: The Eternity Code"
*"Readers will burn the midnight oil to the finish." -Publishers Weekly (starred review)
..".the action is fast and furious, the humor is abundant, characterizations are zany, and the boy genius works wonders--all of which add up to another wild ride for Artemis' fans." - Booklist
"Colfer's young antihero might be getting more likeable all the time, but that hasn't taken the edge off the Tom-Clancy-meets-Harry-Potter action." - Amazon.com.
About the Author
---
Eoin Colfer is the New York Times best-selling author of the Artemis Fowl series, Airman, Half Moon Investigations, The Supernaturalist, Eoin Colfer's Legend of... books, The Wish List, Benny and Omar; and Benny and Babe. He lives in Ireland with his wife and two children.

Andrew Donkin is the author of more than forty books for both children and adults. His work in comics includes "Batman: Legends of the Dark Knight" for DC Comics. Andrew lives in London with his family and his cat, Morgan the Ninja.

Giovanni Rigano is the artist of the Artemis Fowl and Artemis Fowl: The Arctic Incident graphic novels, and many others, including the Daffodil series by Fr d ric Brr maud and several "Incredibles" graphic novels. He lives in Como, Italy.

Paolo Lamanna is an artist, designer, and 3-D animator. He colored the Artemis Fowl and Artemis Fowl: The Arctic Incident graphic novels, as well as the Monster Allergy series, W.I.T.C.H.: "Caleb's Challenge," "Ali nor," and the Daffodil series. He lives in Milan.