The Island of Doctor Moreau (Compact Disc)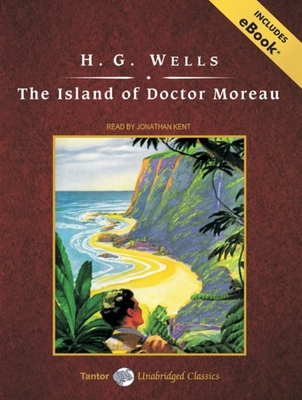 Please email or write store for pricing and availability information.
Description
---
The Island of Dr. Moreau follows a shipwreck survivor to an island on which animals are being transformed into human-like creatures, both physically and socially, by the cold and calculating Dr. Moreau. When it was first published in 1896, The Island of Dr. Moreau shocked and horrified most of its audience as well as reviewers. H. G. Wells effectively employs disturbing elements to explore both the implications of evolutionary theory and to satirize modern society's religious institutions and its pride in its "civilization"-all through a story filled with suspense and adventure. As with the other early "scientific romances" that initiated Wells's literary career, The Island of Dr. Moreau successfully integrates serious ideas into a story driven not only by fast-paced action but also by the author's gift for placing the fantastic parts of the story in the realistically depicted world of his audience. Thus, Wells offered the growing field of science fiction an important model as well as one of its most highly regarded examples.
About the Author
---
H. G. Wells (1866-1946) was a novelist, journalist, sociologist, and historian whose novels "The Time Machine," "The Island of Dr. Moreau," and "The Invisible Man" are among the classic works of science fiction.

Coming soon...