Whose Body? (Compact Disc)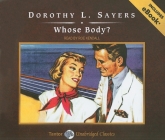 $27.99
Usually Ships in 1-5 Days
Description
---
The stark naked body was lying in the tub. Not unusual for a proper bath, but highly irregular for murder-especially with a pair of gold pince-nez deliberately perched before the sightless eyes. What's more, the face appeared to have been shaved after death. The police assumed that the victim was a prominent financier, but Lord Peter Wimsey, who dabbled in mystery detection as a hobby, knew better. In this, his first murder case, Lord Peter untangles the ghastly mystery of the corpse in the bath. First published in 1923, Whose Body? established the disarmingly debonair-and somewhat foppish-Wimsey as one of the most enduring characters in English literature. It remains one of the most significant (and most charming) of the Golden Age mysteries.
About the Author
---
Dorothy L. Sayers was an English writer, translator, and Christian humanist. Best known for the extremely popular Lord Peter Wimsey mystery series, Sayers also penned a number of plays, including The Man Born to Be King, essays, and translations, of which she considered Dante s Divine Comedy to be her best. Sayers died in 1950, and is buried in St. Anne s Church in London.

Roe Kendall is an acclaimed audiobook narrator whose titles include Peter Pan by James M. Barrie and Murder on the Links by Agatha Christie.