The Magic Keys (Paperback)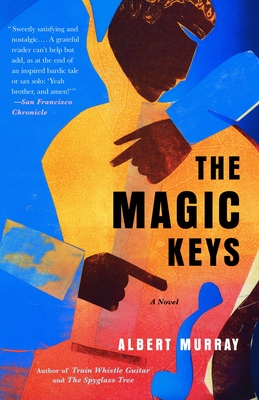 Description
---
The Magic Keys winningly evokes the coming to maturity of one of the great characters in contemporary American literature: Scooter, the central protagonist of Albert Murray's highly acclaimed autobiographical novels Train Whistle Guitar, The Spyglass Tree, and The Seven League Boots.
Growing up brilliant and curious in Alabama, Scooter was told he was destined for greatness. Now newly married and a graduate student in humanities at New York University, he goes about discovering just what he is destined to be great at. Anchored by Eunice, his "Mrs. Me," Scooter makes the rounds of Manhattan's libraries, jazz hangouts, galleries, skyscrapers, and endlessly fascinating streets, meeting the people who will help him find his way: dapper Taft Edison, who is setting their down-home dialect onto the pages of his novel-in-progress; Joe States, a drummer who brings old expectations to Scooter's new life; and Jewel Templeton, no longer his girl but still a believer. When his budding career takes him back to Alabama, Scooter discovers both the promise of everyday bliss and intimations of adventures to come. In his inimitably musical, ardent prose, Murray captures the joyful rhythms of youth and the pulse of life at the moment when everything seems possible, in an exhilarating, tender, and masterfully crafted novel.
About the Author
---
Albert Murray was born in Nokomis, Alabama, in 1916. He grew up in Mobile and was educated at Tuskegee Institute, where he later taught literature and directed the college theater. He is a retired U.S. Air Force major. Albert Murray is author of The Omni-Americans; Stomping the Blues; The Hero and the Blues; Train Whistle Guitar; The Spyglass Tree; The Seven League Boots; South to a Very Old Place; Conjugations and Reiterations; and From the Briarpatch File; as well as co-author of Good Morning Blues: The Autobiography of Count Basie and Trading Twelves The Selected Letters of Ralph Ellison and Albert Murray. He lives in New York City.
Praise For…
---
"Impressive. . . . [Aslam's] prose is stylistically dazzling. . . . His characters' inner lives are explored in-depth, flaws and all. . . . A novel as affecting as it is provocative."–Los Angeles Times Book Review

"Extraordinary. . . . It deepens our knowledge of life. . . . Aslam has created a novel which–grave yet exultant, brutal but compassionate–achieves its complex humanity, and its final affirmations of love and beauty, through a real reckoning with despair and heartbreak."– The New York Review of Books

"Artful . . . and heartbreaking. . . . [Aslam's] prose is richly atmospheric, his tone engagingly introspective."–The New York Times Book Review

"A writer's tour de force. . . . Powerful."–San Francisco Chronicle