Your Marketing Sucks (Paperback)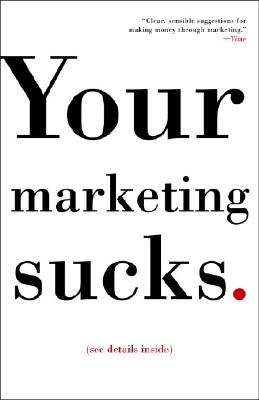 Description
---
• Stop throwing thousand-dollar bills out the window and camouflaging spending as marketing—demand that the money spent on marketing bring in more money in return.

• Cut through the myths that claim marketing is about advertising, public relations, or direct mail—learn that it is about growing the revenue, profit, and valuation of the business.

• Fire your advertising agency if it even thinks about applying for a Clio or other creative award.

• Implement the marketing moratorium—stop all marketing until you know how each component of your program justifies itself in dollars and cents.
About the Author
---
Mark Stevens, president of MSCO, is one of the nation's leading experts in ROI-based marketing and the creator of the Extreme Marketing process. Stevens is an entrepreneur, advisor, business builder, and author of such prominent books as "The Big Eight," "Sudden Death: The Rise and Fall of E. F. Hutton," and "Extreme Management."
Praise For…
---
"Clear, sensible suggestions for making money through marketing." —Time

"I love Mark Stevens's Your Marketing Sucks. . . . Clear language. Strong point of view. Actionable as the dickens. And . . . extreme. (My favorite word.)" —Tom Peters

"Your marketing may suck, but this book doesn't. Every single page has a story, an example, or a concept you'll find yourself repeating to colleagues within days. Powerful stuff, not for amateurs or anyone too lazy to succeed." —Seth Godin, author of Free Prize Inside and The Purple Cow