The Hormone Solution: Stay Younger Longer with Natural Hormone and Nutrition Therapies (Paperback)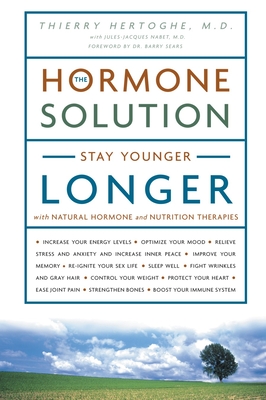 Description
---
America's perceptions about the inevitable effects of aging are about to be completely rethought, thanks to groundbreaking new information from an internationally known expert on hormones and antiaging medicine. Thierry Hertoghe, M.D., has an important message to share: people are aging unnecessarily.
Based on thirty-five years of scientific studies,
The Hormone Solution: Stay Younger Longer with Natural Hormone and Nutrition Therapies
is the first book that offers a prescriptive program to counter memory loss, weight gain, wrinkles, shrinking muscle mass, impotence, hair loss, and a host of other signs and symptoms of aging. Dr. Hertoghe offers an effective program of hormone replacement therapy using safe, low doses of natural hormones--in conjunction with a healthy diet and vitamin and mineral supplements--to help people maintain physical, mental, and emotional health and literally restore their bodies to a state that's three to twelve years younger than their actual age. He identifies the fifteen main, crucial hormones found in the body and explains the process that restores each one to its correct level.
With a foreword by renowned doctor Barry Sears,
The Hormone Solution
is filled with self-scoring checklists, eating plans, nutritional prescription plans, and hormone shopping lists that help every reader calculate his or her personal hormone profile. Dr. Hertoghe is revolutionizing the medical field with his work, showing us how to treat chronic illnesses and the large and small aspects of aging by using preventive measures to drastically slow the aging process and its effects without costly procedures and surgeries. The Hormone Solution is a landmark publication that will revolutionize how people age, enabling us to live longer, healthier, and happier lives
From the Hardcover edition.
About the Author
---
Thierry Hertoghe, M.D., is a member of the International Advisory Board of the American Academy of Anti-Aging Medicine. He lectures regularly to medical professionals and laypeople in the United States and abroad on the subject of hormone deficiencies. Jules-Jacques Nabet, M.D., practices general medicine in Paris and London, specializing in longevity. He is a member of the European Academy of Quality of Life and Longevity Medicine (EQUALL) and the American Academy of Anti-Aging Medicine. From the Hardcover edition.