Bedside Manners: One Doctor's Reflections on the Oddly Intimate Encounters Between Patient and Healer (Paperback)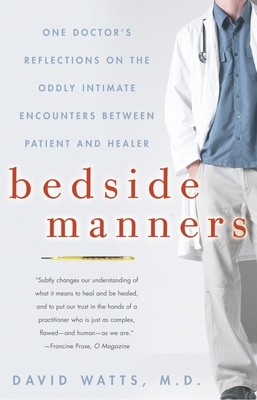 $19.00
Usually Ships in 1-5 Days
Description
---
Have you ever wondered what life is like on the other side of the stethoscope?
Combining the grace and precision of a poet with a down-to-earth, compassionate manner, physician and NPR commentator David Watts reveals what it's really like to be a doctor today. From difficult diagnoses, irreverent colleagues, brave survivors, and examining room embarrassments, Watts uncovers the world of contemporary medicine and shares the emotional truths and practical realities at the heart of every doctor-patient relationship.
Watts's warmhearted and understanding attitude toward his patients and their foibles is evident on every page of this surprising, poignant, and intimate look inside the life of a doctor who could very easily be your own.
About the Author
---
David Watts, M.D., is a poet and a regular commentator on NPR s "All Things Considered." He lives in Mill Valley, California."
Praise For…
---
"David Watts is a gifted storyteller with a sense of the poetic, macabre, ironic, and surreal. He combines eloquence, erudition, and an ear for the gritty vernacular of the examining room and ER—a thoroughly satisfying read."—Leonard Shlain, author of The Alphabet Versus the Goddess and Sex, Time and Power

"Watts can compress humor, pathos, and bewitching ambiguity into a few pages. Acting like a doctor, as he counsels himself, carries the risk of arrogance. Being a doctor demands a profound and grateful openness to the unknown." —Steven Winn, arts and culture critic, San Francisco Chronicle

"These encounters with his patients by a wise, kind doctor are finely wrought in language that is always clear and compassionate. They are a welcome addition to the growing body of literature from the experience of medicine." —Richard Selzer, surgeon and author of The Whistler's Room

"Even the most routine checkup will never be quite the same. Watts's sympathy for both physicians and their patients subtly changes our understanding of what it means to heal and be healed, and to put our trust in the hands of a practitioner who is just as complex, flawed—and human—as we are." —Francine Prose, O, The Oprah Magazine

"Always sensitive, sometimes hilarious." —San Francisco Chronicle

"Candid, poetic prose . . . You'll wish your doctor were half as attentive." —Newsweek