Sore Winners: American Idols, Patriotic Shoppers, and Other Strange Species in George Bush's America (Paperback)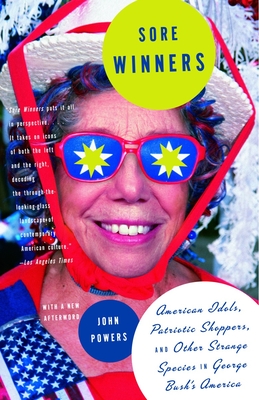 Description
---
Politics and culture, culture and politics. They ve never been normal in America, but today they re weirder than ever. Millionaire populists like Bill O Reilly and Michael Moore dominate a political scene spinning ever further from the real world; meanwhile, we look to bizarre experiments like Survivor for our daily dose of reality.
In this wonderfully acerbic tour through our increasingly unhinged culture, John Powers takes on celebrities and evangelicals, pundits and politicians, making sense of the mess for the rest of us. He shows how we have come to equate consumerism with patriotism and Fox News with objective journalism, and how our culture has become more polarized than ever even as we all shop at the same exact big-box stores. Insightful, hilarious, and critical of both liberals and conservatives, this is one of the smartest and most enjoyable books on American culture in years.
About the Author
---
John Powers is the film critic at Vogue and Editor-at-Large of L.A. Weekly, where he writes a media-culture column. He is also critic-at-large for NPR's "Fresh Air with Terry Gross, and has been an international correspondent for Gourmet. He lives in Pasadena, California. with his wife, Sandi Tan."
Praise For…
---
"Sore Winners puts it all in perspective . . . It takes on icons of both the left and the right, decoding the through-the-looking-glass landscape of contemporary American culture." –Los Angeles Times "Sore Winners is one of the best books of political analysis I've read in the past five years. John Powers has an original and refreshing way of getting the reader to see politics differently." –Bill Moyers"[A] bitingly sharp analysis . . . Powers assuredly navigates the reader through both the major (Saddam's capture) and minor (Joe Millionaire) events that shaped our media-soaked culture over recent years." –Vogue "[Powers] is a clever, quick-witted writer with a gift for the dead-on zinger — the Left's answer to P.J. O'Rourke [and] David Brooks." –The Washington Post Book World"Sore Winners rises above the shrieking din with its mix of pop culture criticismÉand its depressing yet dead-on examination of what Powers terms 'Bush World.'" –Los Angeles "The best and the most persuasive. . . . The only one to try to tie all of the last 3 1/2 post-traumatic years together!" – The Buffalo News"Powers packs more sense in a quick sentence than others can fit into an entire book."– Colorado Springs Independent"John Powers's Sore Winners is an angry but astonishingly good-humored and generous account of the degraded political and media culture of the Bush era. I can't imagine a better guide for anyone trying to get his head screwed on right and mount a free-swinging attack on the worst president and the crassest popular culture in recent American history."–David Denby, New Yorker film critic and author of American Sucker"Powers's Sore Winners is surreally comprehensive, laserously observant, 85 percent correct, and refreshingly unshrill."– David Foster Wallace"While reading this funny and engaging book, I felt the hair I had torn out reading David Brooks start to grow back." – David Rees, author of Get Your War On"It's so hard, these days, to cut through the noise and nonsense and get it right. The polymath Powers has done it, with this grand confection of wit, insight and blazing, level-headed honesty. Delicious!" – Ron Suskind, author of A Hope in the Unseen and The Price of Loyalty"A disturbing trip down memory lane that places the last four years in true, horrible relief. John Powers takes us into the funhouse — and then shows us a way out."–Colson Whitehead, author of John Henry Days and The Colossus of New York"A bittersweet, breezy, smart look at current politics in the larger context of American culture – or what passes for it. Enough right-on digs at current icons to cover the cost of admission!" – Kirkus Reviews"Exhilaratingly insightfulÉPowers' brilliant synthesis and recap is invaluable in its coherence and incisiveness." – Booklist