In the Company of Cheerful Ladies (Paperback)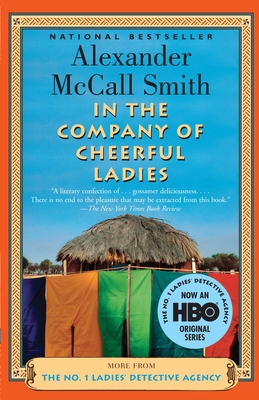 Description
---
THE NO. 1 LADIES' DETECTIVE AGENCY - Book 6

Fans around the world adore the best-selling No. 1 Ladies' Detective Agency series and its proprietor, Precious Ramotswe, Botswana's premier lady detective. In this charming series, Mma Ramotswe--with help from her loyal associate, Grace Makutsi--navigates her cases and her personal life with wisdom, good humor, and the occasional cup of tea.
Precious is busier than usual at the detective agency when she discovers an intruder in her house on Zebra Drive--and perhaps even more baffling--a pumpkin on her porch. Her associate, Mma Makutsi, also has a full plate. She's taken up dance lessons, only to be partnered with a man with two left feet. And at Tlokweng Road Speedy Motors, where Mr J.L.B. Matekoni is already overburdened with work, one of his apprentices has run off with a wealthy older woman. But what finally rattles Mma Ramotswe's normally unshakable composure is a visitor who forces her to confront a difficult secret from her past.
About the Author
---
Alexander McCall Smith is the author of the huge international phenomenon, The No. 1 Ladies' Detective Agency, and The Sunday Philosophy Club series. He was born in what is now known as Zimbabwe and he was a law professor at the University of Botswana and at Edinburgh University. He lives in Scotland. Visit his Web site at www.alexandermccallsmith.com.
Praise For…
---
"A literary confection of . . . gossamer deliciousness. . . . There is no end to the pleasure that may be extracted from [this book]."
—The New York Times Book Review

"Enchanting. . . . In the Company of Cheerful Ladies may be the most compelling of the lot." —Daily News

"Put on the teakettle, find your place in the sun and settle in for a genteel journey. . . . McCall Smith has brewed up a gem of a story as rich as . . . red bush tea."
—Rocky Mountain News

"Beguiling, lyrical. . . . Cheerful Ladies is blessed with . . . McCall Smith's richly detailed portraits of life in Africa and his flair for storytelling with an engaging cast of fully realized characters." —Los Angeles Times