Soldier: The Life of Colin Powell (Paperback)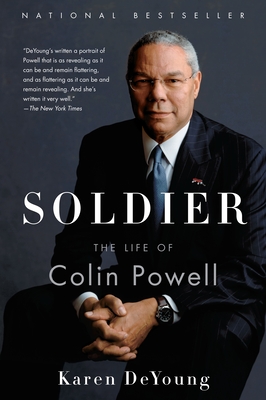 $19.00
Usually Ships in 1-5 Days
Description
---
The first full biography of Colin Powell, from his Bronx childhood to his military career to his controversial tenure as secretary of state, with a new afterword detailing his life after the Bush White House.
Over the course of a lifetime of service to his country, Colin Powell became a national hero, a beacon of wise leadership and one of the most trusted political figures in America. In Soldier, the award-winning Washington Post editor Karen DeYoung takes us from Powell's humble roots as the son of Jamaican immigrants to his meteoric rise through the military ranks during the Cold War and Desert Storm to his agonizing deliberations over whether to run for president. Culminating in his stint as Secretary of State in the Bush Administration and his role in making the case for war with Iraq, this is a sympathetic but objective portrait of a great but fallible man.
About the Author
---
Karen DeYoung has worked at The Washington Post since 1975. She has held a number of positions, including her current slot as associate editor. She also has served as assistant managing editor for national news, national editor, London bureau chief, foreign editor, and Latin America bureau chief. She has won a number of awards, including the 2003 Edward Weintal Award for Diplomatic Reporting, Sigma Delta Chi awards for investigative reporting and foreign reporting, and a Pulitzer Prize she shared with several Washington Post colleagues for national coverage of the war on terrorism. She lives in the D.C. area, with her husband and two children.
Praise For…
---
"DeYoung's written a portrait of Powell that is as revealing as it can be and remain flattering, and as flattering as it can be and remain revealing. And she's written it very well."—The New York Times"Diligent, sympathetic, but not uncritical. . . . It doesn't pull punches." —The New York Review of Books"A fascinating study in bureaucratic maneuvering, groupthink and subtle self-deception." —The Washington Post Book World"Judicious, thorough, unstinting . . . with its privileged glimpses into policy battles and high-level backbiting in the Bush administration, [Soldier] is sure to be one of this year's top newsmaking books."—The Dallas Morning News