A Walk with Jane Austen: A Journey Into Adventure, Love, and Faith (Paperback)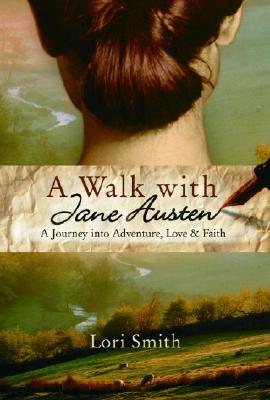 Description
---
Step into a Life of Grace
At thirty-three, dealing with a difficult job and a creeping depression, Lori Smith embarked on a life-changing journey following the life and lore of Jane Austen through England.
With humor and spirit, Lori leads readers through landscapes Jane knew and loved from Bath and Lyme, to London and the Hampshire countryside and through emotional landscapes in which grace and hope take the place of stagnation and despair. Along the way, Lori explores the small things, both meanness and goodness in relationships, to discover what Austen herself knew: the worth of an ordinary life.
About the Author
---
Lori Smith is a freelance writer whose work has appeared in "Washington Post Book World," "Publishers Weekly," "Washingtonian" and "Today s Christian Woman." She is author of "The Single Truth" and creator of the popular literary blog Jane Austen Quote of the Day."
Praise For…
---
"A young woman goes looking for Austen in all the places Austen once lived and many of the places she wrote about. The Austen she finds is a woman of family, and of quiet but sustaining faith. Austen shares these things and many others with author Lori Smith whose book gives the reader the great pleasure of time spent with both. A lovely, intimate read."
–Karen Joy Fowler, best-selling author of The Jane Austen Book Club

"Sensitively written and carefully paced this memoir takes the reader on a tour of the author's experiences while journeying around England in the footsteps of Jane Austen. Lori Smith moves seamlessly from romantic daydreams, through a close questioning of her relationship with God, to battles with her mental and physical health. The book reads as an intimate and honest memoir and has enough to satisfy the non-Christian (like myself) if they choose to look beyond the somewhat unexpected (in a mainstream book at least) pairing of Jane Austen and Christianity. Above all else, this is a book about searching–for love, meaning, peace with oneself, health, a good night's sleep, and a decent cup of coffee that wasn't made with that freeze-dried-instant-powder–and these are experiences that anyone of any faith can relate to.... A welcoming read. Lyrical and questioning...perfectly pitched."
–Emma Campbell Webster, actress, author of Lost in Austen, and founder of lostinaustenblogspot.com


"With wit, charm, and rare honesty–of which I have to believe Jane Austen would have thoroughly approved–Lori Smith weaves her personal life experiences throughout her journey into the life that was Jane's. Infused with faith, romance, loss, and a search for self, A Walk With Jane Austen makes for that rare book that keeps popping into one's thoughts and beckoning one back."
–Tamara Leigh, author of Perfecting Kate and Splitting Harriet

"With deep and sometimes heartwrenching honesty, Lori Smith weaves her story and Jane's together into a wholly unique narrative. In the midst of a craze for treating Austen's novels as little more than glorified bodice-rippers, Lori brings to bear her perspective as a single Christian woman who can identify in many ways with Austen's own beliefs and experiences, exploring truths and ideas that others gloss over. The resulting book stands out like a beacon."
–Gina R. Dalfonzo, editor of The Point weblog (http://thepoint.breakpoint.org) and writer for BreakPoint Radio