A Wreath of Snow: A Victorian Christmas Novella (Hardcover)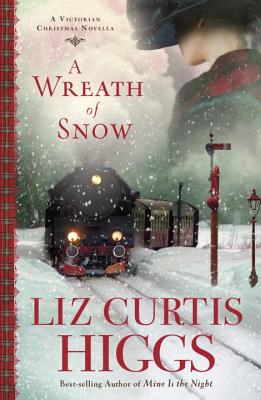 Description
---
 "A wonderful story of redemption and restoration that will warm your heart during the Christmas season—or any time of year!"
—Francine Rivers, best-selling author of Redeeming Love
Wrapped in a cloud of steam, the engine rolled to a stop, the screech of metal against metal filling the frosty air. Snow blew across the railway platform and around Meg's calfskin walking boots. The weather definitely was not improving.

She ordered tea with milk and sugar, eying the currant buns and sweet mincemeat tarts displayed beneath a bell jar.
Later, perhaps, when her appetite returned. At the moment her stomach was twisted into a knot.

"Anything else for you?" the cashier asked as she handed over the tea, steaming and fragrant.

Meg was surprised to find her fingers trembling when she lifted the cup. "All I want is a safe journey home."

"On a day like this?" the round-faced woman exclaimed. "None but the Almighty can promise you that, lass."
 
"A Wreath of Snow glows with warmth, charm, and grace. A wonderful read."
—BJ HOFF, author of The Riverhaven Years series
Christmas Eve 1894
 
All Margaret Campbell wants for Christmas is a safe journey home. When her plans for a festive holiday with her family in Stirling crumble beneath the weight of her brother's bitterness, the young schoolteacher wants nothing more than to return to the students she loves and the town house she calls home.
 
Then an unexpected detour places her in the path of Gordon Shaw, a handsome newspaperman from Glasgow, who struggles under a burden of remorse and shame.
 
When the secret of their shared history is revealed, will it leave them tangled in a knot of regret? Or might their past hold the threads that will bind their future together?
 
As warm as a woolen scarf on a cold winter's eve, A Wreath of Snow is a tender story of love and forgiveness, wrapped in a celebration of all things Scottish, all things Victorian, and, especially, all things Christmas.
About the Author
---
Liz Curtis Higgs is the author ofthirty books, with more than three million copies in print. Her six Scottish historical novels have won the hearts of readers and reviewers around the globe. "Whence Came a Prince "received a Christy Award for Best Historical Novel. "Here Burns My Candle "won the "Romantic Times" Reviewers Choice Award for Best Inspirational Romance, and "Mine Is the Night, "was a "New York Times" bestseller.

Liz is happily married to Bill Higgs, who serves as director of operations for her speaking and writing office. When she s not traveling to Scotland for research, Liz can be found curled up with a good book in their old Kentucky home, a nineteenth-century farmhouse near Louisville, Kentucky."
Praise For…
---
Praise for A Wreath of Snow
 
"I loved it. A Wreath of Snow is a wonderful story of redemption and restoration that will warm your heart during the Christmas season—or any time of year!"
—Francine Rivers, author of Redeeming Love

"When A Wreath of Snow arrived at my doorstep, I settled down to read just a few lines and instead devoured it. I highly recommend this book to anyone who enjoys heart-tugging stories of forgiveness and grace."
—Tracie Peterson, author of the Land of the Lone Star series

"A delightful Christmas jaunt through bonny Scotland in the Victorian era—complete with snow! I was drawn in by compelling characters who struggle to find love, joy, and belonging, only to discover the real meaning of Christmas. A heartwarming story!"
—Melody Carlson, author of Christmas at Harrington's

"A Wreath of Snow charms from first page to last, and Gordon and Meg will capture your heart. The story might even make you long for snow. Don't miss this delightful novella. It's a keeper!"
—Robin Lee Hatcher, author of Betrayal

"Journey to a time and place where hearth, home, and honesty are the gifts beneath the candlelit Christmas tree. You'll find yourself lingering in the glow of this winsome tale that brims with comfort and joy."
—Robin Jones Gunn, author of Finding Father Christmas

"I look for a richly textured story that draws me in and lets me become a part of its world. Liz Curtis Higgs has once again provided that kind of beautifully written and thoroughly involving story. A Wreath of Snow glows with warmth, charm, and grace. A wonderful read."
—BJ Hoff, author of The Riverhaven Years series

"Like a perfect afternoon tea, A Wreath of Snow is sure to comfort, delight, and surprise. It offers the savory rewards of repentance tendered and forgiveness received, the liquid warmth of family affections, and a perfectly delicate setting in Victorian Scotland. A charming Christmas read."
—Sandra Byrd, author of To Die For: A Novel of Anne Boleyn