All the Time in the World: New and Selected Stories (Hardcover)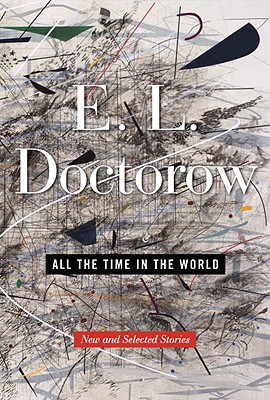 Description
---
From Ragtime and Billy Bathgate to World's Fair, The March, and Homer & Langley, the fiction of E. L. Doctorow comprises a towering achievement in modern American letters. Now Doctorow returns with an enthralling collection of brilliant, startling short fiction about people who, as the author notes in his Preface, are somehow "distinct from their surroundings—people in some sort of contest with the prevailing world".

A man at the end of an ordinary workday, extracts himself from his upper-middle-class life and turns to foraging in the same affluent suburb where he once lived with his family.

A college graduate takes a dishwasher's job on a whim, and becomes entangled in a criminal enterprise after agreeing to marry a beautiful immigrant for money.

A husband and wife's tense relationship is exacerbated when a stranger enters their home and claims to have grown up there.

An urbanite out on his morning run suspects that the city in which he's lived all his life has transmogrified into another city altogether.

These are among the wide-ranging creations in this stunning collection, resonant with the mystery, tension, and moral investigation that distinguish the fiction of E. L. Doctorow. Containing six unforgettable stories that have never appeared in book form, and a selection of previous Doctorow classics, All the Time in the World affords us another opportunity to savor the genius of this American master.
About the Author
---
E. L. Doctorow's novels include "Homer & Langley, The March, City of God, The Waterworks, Welcome to Hard Times, The Book of Daniel, Ragtime, Loon Lake, Lives of the Poets, World's Fair, "and" Billy Bathgate." Among his honors are the National Book Award, three National Book Critics Circle awards, two PEN/Faulkner awards, the William Dean Howells Medal of the American Academy of Arts and Letters, and the presidentially conferred National Humanities Medal. E. L. Doctorow lives in New York City.
Praise For…
---
Advanced Praise for All the Time in the World

"Virtuoso Doctorow is revered for his grandly dimensional novels, but he is also a superlative and transfixing short story writer. The incandescent new stories and forever stunning vintage tales…that Doctorow selected for this powerhouse collection portray psychological outliers on the edge of either liberation or an abyss. Doctorow is rightfully treasured for his social acuity and fluency in urban life, but he is also a penetrating observer of nature and our concealed primal selves….Like iron trellises wreathed with flowering vines, Doctorow's complex and masterful tales of the strangeness, pain, and beauty of life are wise and resplendent…A landmark collection from a preeminent and popular writer who elevates the best-seller lists with each new book."
--Booklist

"The new and previously published stories in All the Time in the World are a reminder that, for decades, Mr. Doctorow has been a first-rate artist in the short form, able to coax forth readerly empathy for almost all his creations…Mr. Doctorow is now 80, and as the assessments of his long career commence, it is clear that he has been, like his characters, a man apart from his contemporaries. The stories of All the Time in the World do not seem to belong to any school or style but to emanate from his own solitary visions."
–WALL STREET JOURNAL

"Wonderful descriptions [and] gorgeous sentences…seem to fall effortlessly from Doctorow's fingertips….Doctorow's stories generally come back to the melancholy reality of imminent doom — yet they are rarely dreary and can be, in fact, quite funny. His characters, trapped as they are, manage to make a ragged music by rattling their chains."
–CHICAGO TRIBUNE

"Distinctive, sharply focused, glistening with crisp language….Wherever they take place, these memorable stories reflect a novelist's intimate understanding of human frailty and penchant for delusion….[Doctorow] is also keenly alert to the demands of short fiction, the blend of nuance and straightforwardness that makes stories hum with resonance and vitality…Savor All the Time in the World for its elegance, its intuition and for Doctorow's understanding of the complexity of the human drama."
–MIAMI HERALD
 
"Egoless, frank, spontaneous and altogether wonderful."
–SAN FRANCISCO CHRONICLE

"[All the Time in the World] gives us a sense of breadth, of movement, of the scope of Doctorow's career…. [stories that] trace, with grace and acuity, the tension between longing and obligation, between who we are and who we mean to be."
–L.A. TIMES

"Doctorow seems telepathic in his ability to channel so many different kinds of characters - men and women from a wide range of eras, landscapes, ethnicities. This virtuosity is one reason he's such a revered writer, though he has other skills, too…As ever, Doctorow has captured the mood of our time and rendered it in compelling fiction."
–PHILADELPHIA INQUIRER

"The mystery, tension and shock Doctorow is known for are all here in this collection. If you're a fan you will not be disappointed in the new, and happy to be reacquainted with the old."
—USA TODAY

"This history lover's nuanced collection of stories shouldn't be overlooked….delightfully idiosyncratic…Doctorow has always known that whether we act out of love, fear or necessity, these are the imperatives that drive our national consciousness."
—TIME OUT NEW YORK

"First rate…Never as simple as they seem on the surface, his stories are full of paradox and good humor with a sometimes caustic underbelly; they're absurd in a funny sort of way. He reveals the quirks of our society in the kind of stories others can only aspire to write."
–MINNEAPOLIS STAR TRIBUNE

"Tales of dysfunction, disintegration tempered with wit…Doctorow prefaces the new collection by saying he doesn't expect readers to see the 'light' that guided his selection and sequencing of the stories, but it shines vividly and creates a distinctive, sometimes disturbing constellation"
–PORTLAND OREGONIAN

"When its soulful writing and vagrant characters are read in the context of this powerful impression, All the Time in the World feels, more often than not, like a haunting collection of ghost stories."
–RICHMOND TIMES DISPATCH

"Once you immerse yourself in these stories, you'll wish you had all the time in the world…all these stories work on another level, revealing news about the world, yes, but also revealing the mysteries that lie at the heart of human behavior."
–NPR ALL THINGS CONSIDERED
Coverage from NPR