Cheese: A Connoisseur's Guide to the World's Best (Hardcover)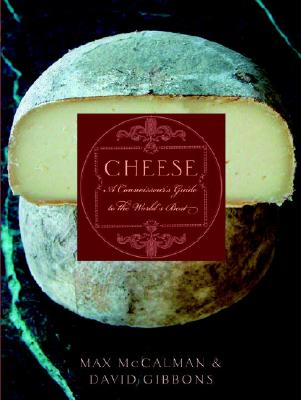 Description
---
Filled with indispensable information from America's foremost authority, Max McCalman, "Cheese: A Connoisseur's Guide to the World's Best" is your road map to exploring the world of fine cheese. As the maitre fromager at New York's acclaimed Picholine restaurant (the first in the country to offer a serious cheese program) and author of the widely acclaimed" The Cheese Plate," McCalman has selected, tasted, and studied hundreds of cheeses, serving them to thousands of cheese lovers. And now he has created the definitive reference on the subject. Cheese profiles about 200 of the world's best cheeses--and only the best--complete with all the practical information you could need and all the fascinating details you could want.
An incredible variety of real cheeses from around the world--including right here in the United States--are becoming more widely available. From distinguished Cabrales to oozing Reblochon and buttery Fontina d'Aosta, real cheese can rival the most spectacular creations of chefs, and all you have to do is buy the good stuff and serve it properly. Cheese is the ultimate guide to doing just that. Profiles of the cheeses include not only McCalman's evocative descriptions but fascinating information on how each cheese is made, who the best producers are, similar cheeses to seek out, and even tips on what time of year the cheese is at its peak, how to store it, and how to serve it for maximum enjoyment.
Of course, wine is cheese's favorite companion, so McCalman taste-tested thousands of wine and cheese combinations to offer unprecedented guidance on exactly which wines are most compatible with each and every cheese.
From the A of Aarauer Bierdeckel to the Z of Zamorano, Cheese is an illuminating, seductive guide to the very best that the world's cheesemakers have to offer.
About the Author
---
Max McCalman is the unofficial spokesperson for fine cheese in the United States, featured in everything from the "New York Times "and "Food & Wine" to "Queer Eye for the Straight Guy." He is the maitre fromager of the Artisanal Restaurant Group: Terrance Brennan's three-star restaurant Picholine, Artisanal Brasserie & Fromagerie, and the Artisanal Cheese Center in New York City. McCalman is also Dean of Curriculum at the Artisanal Cheese Center and has taught at many venues, including the Culinary Institute of America, the Institute for Culinary Education, and the New School. He lives in New York City with his daughter, Scarlett.

David Gibbons, a freelance writer, was coauthor with Max McCalman of "The Cheese Plate," which was nominated for both James Beard and IACP awards, and was also the writer for Overstreet's "New Wine Guide" and Colin Cowie's "Dinner After Dark." He lives in New York City.
Praise For…
---
"The best cheese lover's guide . . . by the most passionate and knowledgeable cheese master in America." —Eric Ripert, executive chef/co-owner, Le Bernardin

"This is a terrific guide to understanding the world's finest cheese." —Robert M. Parker, Jr., The Wine Advocate

"As a child in France, I watched my father savor a small piece of fine Roquefort every day. When I first met Max at Picholine restaurant, I recognized his great passion for cheese at once. He has combined this passion with a serious and extraordinary sense of the ceremony of cheese, and in doing so has taken cheese to another dimension for New York diners and now for his readers." —Alain Sailhac, executive vice president and senior dean of studies, The French Culinary Institute

"This long-awaited book is a welcome addition to the cheese lover's library. Filled with essential information, Cheese is a must have." —Ihsan Gurdal, Formaggio Kitchen

"How truly delicious to have finally arrived at a time when the great pleasures of cheese are accessible to so many Americans. This enticing, refreshingly clear, and insightful book is a gem and a must-read for both the knowledge-thirsty amateur and the true connoisseur." —Karen Waltuck, owner, and Adrian Murcia, fromager, Chanterelle restaurant

"This is definitely a book that anyone with a serious interest in cheese—both professionals and consumers—will want to own. Cheese has a wealth of helpful guidelines about how to buy, taste, and store cheese, as well as descriptions and background on the great cheeses of the world, some classics, some little known outside their own neighborhoods." —Ari Weinzweig, author of Zingerman's Guide to Good Eating and co-founder of Zingerman's Community of Businesses