Ten Days in the Hills (Paperback)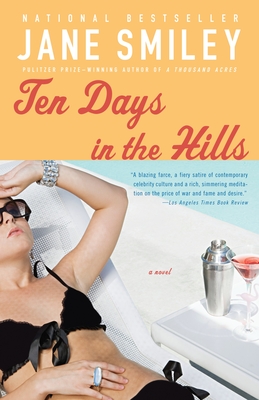 $14.95
Usually Ships in 1-5 Days
Description
---
In the aftermath of the 2003 Academy Awards, Max and Elena- he's an Oscar-winning writer/director-open their Holywood Hills home to a group of friends and neighbors, industy insiders and hangers-on, eager to escape the outside world and dissect the latest news, gossip, and secrets of the business. Over the next ten days, old lovers collide, new relationships form, and sparks fly, all with Smiley's signature sparkling wit and characterization.
With its breathtaking passion and sexy irreverence, "Ten Days in the Hills" is a glowing addition to the work of one of our most beloved novelists.
About the Author
---
Jane Smiley is the author of eleven novels, as well as four works of nonfiction. She is the recipient of a Pulitzer Prize, and was inducted into the American Academy of Arts and Letters in 2001. Smiley lives in Northern California.
Praise For…
---
"A blazing farce, a fiery satire of contemporary celebrity culture and a rich, simmering meditation on the price of war and fame and desire." —Los Angeles Times Book Review"A raunchy survey of the human condition. . . . A modern-day Decameron." —John Updike, The New Yorker"Luxurious. . . . The extremely talented and ever-surprising Jane Smiley . . . deftly transposes the central themes and rich atmosphere of a literary classic to contemporary America." —Entertainment Weekly"Sprawling, languid, randy . . . Ten Days in the Hills is a novel, and a shimmering one at that, of social observations, archly written and mordantly funny." —San Francisco Chronicle