A Year at the Races: Reflections on Horses, Humans, Love, Money, and Luck (Paperback)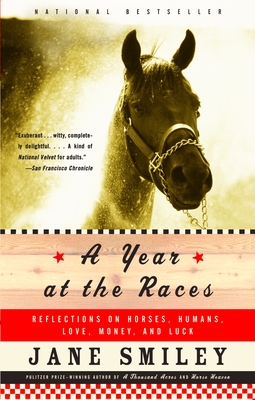 $15.00
Usually Ships in 1-5 Days
Description
---
Every horse story is a love story, writes Jane Smiley, who has loved horses for most of her life and owned and bred them for a good part of it. To love something is to observe it with more than usual attention, and that is precisely what Smiley does in this irresistibly smart, witty, and engaging chronicle of her obsession.
In particular she follows a sexy filly named Waterwheel and a grey named Wowie (he tells a horse communicator that he wants it changed from Hornblower) as they begin careers at the racetrack. Filled with humor and suspense, and with discourses on equine intelligence, affection, and character, A Year at the Races is a winner.
About the Author
---
Jane Smiley is the author of numerous novels, including, most recently, Good Faith, as well as a critically acclaimed biography of Charles Dickens. She is the recipient of a Pulitzer Prize and was inducted into the American Academy of Arts and Letters in 2001. Smiley owns several horses and lives in Northern California. From the Hardcover edition.
Praise For…
---
"Exuberant . . . witty, completely delightful. . . . A kind of National Velvet for adults." –San Francisco Chronicle

"Smiley is arguably America's foremost author on the subject of love. . . . And love imbues this memoir." –The Washington Post

"Smiley has flung herself headlong . . . into horse racing. . . . Enough good horse stories to keep any reader happy." –The New York Times Book Review

"Invigorating . . . thought-provoking. A delightful book filled with arcane horse knowledge. . . . It could easily become the bible of the barn." –The Baltimore Sun