Right to Exist: A Moral Defense of Israel's Wars (Paperback)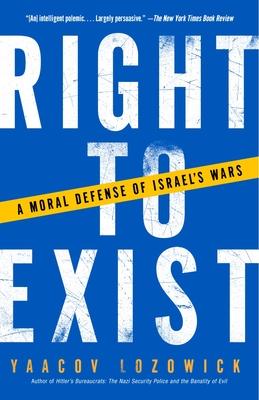 $17.95
Usually Ships in 1-5 Days
Description
---
For more than a half-century, Israel has been forced to defend its existence against international political disapproval, racist calumny, and violence visited upon its citizens by terrorists of many stripes. While nations have always been made to defend their moral, political, economic, or social actions, Israel has the unique plight of having to defend its very right to exist.
Covering Israel's struggle for existence from the British occupation and the UN's partition of Palestine, to the dashed hopes of the Oslo Accords and the second intifada, Yaacov Lozowick trains an enlightening, forthright eye on Israel's strengths and failures. A lifelong liberal and peace activist, he explores Israel's national andregional political, social, andmoral obligations as well as its right to secure its borders and repel attacks both philosophical and military. Combining rich historical perspective and passionate conviction, Right to Exist sets forth the agenda of a people and a nation, and elegantly articulatesIsrael sentitlement to a peaceful coexistence with its surrounding Arab neighbors and a future of security and pride.
About the Author
---
Yaacov Lozowick is the director of the archives at Yad Vashem, Israel s Holocaust Museum, and the author of Hitler s Bureaucrats: The Nazi Security Police and the Banality of Evil."
Praise For…
---
"An intelligent polemic. . . . Largely persuasive." –The New York Times Book Review

"Essential. . . . Lozowick contends that the story of Israel is, crucially, the story of its wars–and that any attempt to evaluate Zionism must be anchored in the larger context of the morality of war." --National Review

"Unusually illuminating. . . . Liberal American critics of Israel who wonder why Israeli intellectuals don't share their views will find Right to Exist eye-opening." –Philadelphia Inquirer

"Where has this book, or others like it, been all this time? . . . A powerful handbook for anyone interested in Israel." –The New York Post

"[Lozowick] concedes basic justice in the Palestinian cause, and he deals respectfully with the arguments made by both sides. . . . He is also honest about such matters as the historic cohabitation of Muslims and Jews." --Los Angeles Times Book Review