Adam and Eve and Pinch Me (Paperback)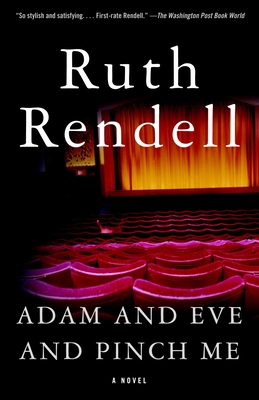 $15.95
Usually Ships in 1-5 Days
Description
---
Minty's boyfriend, Jock, was killed in the disastrous train wreck at Paddington, shortly after he borrowed all her savings. Now he has come back to haunt her. Zillah lost her estranged husband, Jerry, in that same accident. She is not convinced he is actually dead, but for reasons of her own decides not to pursue the matter. Fiona's fiance, Jeff, has simply disappeared-quite inexplicably since she was supporting him in style.
In her ingeniously unnerving new novel, Ruth Rendell deftly traces the connections among these women-and between them a series of vicious stabbings terrifying London. Adam and Eve and Pinch Me is a masterpiece of malice and psychological suspense.
About the Author
---
Ruth Rendell is the author of Road Rage, The Keys to the Street, Bloodlines, Simisola, and The Crocodile Bird. She is the winner of the Mystery Writers of America Grand Master Award. She is also the recipient of three Edgars from the Mystery Writers of America and four Gold Daggers from Great Britain's Crime Writers Association. In 1997, she was named a life peer in the House of Lords. Ruth Rendell also writes mysteries under the name of Barbara Vine, of which A Dark Adapted Eye is the most famous. She lives in England.
Praise For…
---
"Another exemplary product of Rendell's fertile imagination. Delivers what mystery lovers want. Above all, fascination." –The Washington Post Book World

"Rendell builds plots the way the Romans built bridges, erecting graceful, arching affairs that soar high because they are sunk deep and cost a human life or two." –The New York Times Book Review

"A neat little microcosm of the Rendell universe, in which innocence and experience, the macabre and playful, the sadistic and romantic, all rub shoulders . . . before erupting into a kind of spontaneously lethal combustion." –The Boston Globe

"Disquieting, compelling . . . Rendell is a literary Hitchcock, coming at stories from unexpected angles." –Chicago Tribune

"Rendell terrorizes with the subtle authority of a cat burglar in the night." –San Francisco Chronicle

"Whether she's writing as herself or under the pseudonym Barbara Vine, Rendell is never boring. Adam and Eve is no exception." –USA Today

"A true page-turner, with a haunting ending that stayed with me long after I had read the final sentences." –St. Louis Post-Dispatch

"Rendell's genius is to create characters so vivid they live beyond the frame of the novel. She pushes the ordinary to the point of the bizarre while remaining consistently believable." –Publishers Weekly

"Rendell writes with such elegance and restraint, with such a literate voice and an insightful mind, that she transcends the mystery genre and achieves something almost sublime." –Los Angeles Times

"Madly absorbing . . . Rendell's characters are fully drawn, and we become completely caught up in their struggles." –Booklist

"Ruth Rendell is, unequivocally, the most brilliant mystery novelist of our times." –Patricia Cornwell