Complete Brazilian Portuguese: The Basics (Paperback)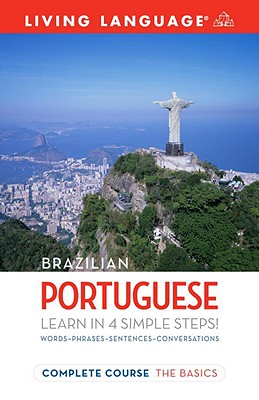 $12.99
Usually Ships in 1-5 Days
Description
---
Learn Portuguese in 4 Simple Steps.
With Living Language Complete Portuguese: The Basics, you'll start by learning words, and then you'll progress to phrases, sentences, and conversations. This simple four-step building block approach will have you speaking with confidence right from the beginning, and you'll be able to learn gradually and effectively. If you're confident in your pronunciation, then this coursebook includes everything you need - vocabulary, grammar, culture, and practice.
This comprehensive coursebook includes:
- 40 step-by-step lessons
- Practical vocabulary and authentic everyday usage
- Simple explanations and plenty of examples
- Supplemental sections, including e-mail and internet resources
- A comprehensive grammar reference section.
About the Author
---
Living Language has been a proven and effective language learning instruction for over 65 years. Using techniques originally developed for the US State Department, the Living Language Method follows a four point approach from building a foundation of essential words and phrases, advancing to full sentences and conversations, practicing with recall exercises aimed at both short and long term memory and developing practical language skills to equip the learner in any situation. Living Language is an imprint of Random House LLC, a Penguin Random House Company.