Fodor's Flashmaps Washington DC (Paperback)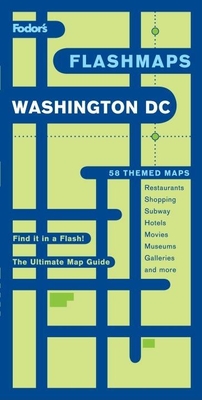 Description
---
"Fodor's. For Choice Travel Experiences.
"Fodor's helps you unleash the possibilities of travel by providing the insightful tools you need to experience the trips you want. Although you re at the helm, Fodor's offers the assurance of our expertise, the guarantee of selectivity, and the choice details that truly define a destination. It's like having a friend in Washington, D.C.
"Fodor's Flashmaps Washington, D.C." is the ultimate street and information finder for locals and visitors, with thematic maps and listings packed into a compact book that fits in your purse or pocket.
From Capitol Hill to Adams Morgan, navigating and exploring the streets of Washington, D.C. is easy with Flashmaps. The guide gathers 58 full-color maps covering transportation, shopping, parks, restaurants, movie theatres, and more Key phone numbers and addresses are also at your fingertips.
If it's not worth your time, it's not in "Flashmaps Washington, D.C." The carefully selected maps will ensure that you ll know about the most interesting and enjoyable places in Washington, D.C.
Visit Fodors.com for more ideas and information, travel deals, vacation planning tips, reviews and to exchange travel advice with other travelers.
Praise For…
---
"In terms of comprehensiveness of coverage, the very accessible format, and the enthusiastic tone, this series remains one of the best on the market." –Booklist
 
"Fodor's super-informative guidebooks are known for accuracy and attention to detail…" –The Sacramento Bee
 
"The Fodor's guides are notable for their ratings of sights, restaurants, shops, accommodations and attractions." –Chicago Tribune
 
"The great detail, infectious spirit, and attractive format are distinguishing traits of these guides, which are entries in one of the top series in the business." –Booklist
 
"Fodor's can help you plan the perfect adventure" –The Arizona Republic
 
"Always thoughtfully written and easily readable, Fodor's travel guides have become a must-have when traveling to unfamiliar destinations" –Mid South Magazine
 
"Widely recognized as the gold standard of mainstream travel" –Honolulu Advertiser