Fodor's Istanbul's 25 Best [With Map] (Paperback)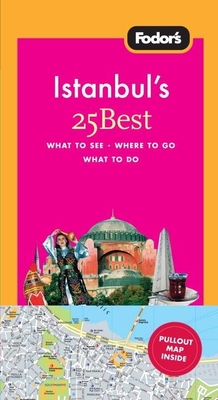 Description
---
Top 25 Must-See Sights. Best bets for dining, lodging, sightseeing. Plus a full-color pullout map. Everything you need to experience Istanbul. - Top lodging and dining picks for every budget
- Best museums, Islamic art, and landmarks
- Quintessential experiences, from drinking tea in a Turkish cafe to walking the Istiklal Caddesi
- Shopping for ceramics, crafts, antiques, and kilims
- Outdoor delights, from picnicking among locals in Yildiz Parki to cruising the Bosphorus
- Kid-friendly attractions, from Miniaturk to the Istanbul Toy Museum to the Spice Bazaar
- Excursions to the seaside resort of Kilyos and Kizil Adalar (Princes' Islands) Insider Tips - Expert Advice The author: Christopher Rice, who holds a PhD from the Centre of East European Studies at England's Birmingham University, writes regularly on Central and Eastern Europe. His wife and coauthor, Melanie Rice, shares his fascination with this part of the world.