The Devil (Paperback)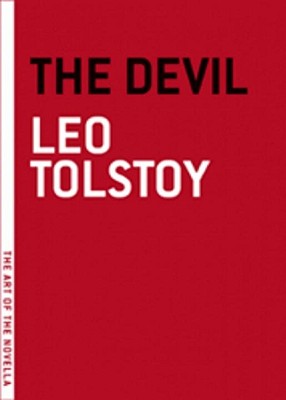 Description
---
"I am acting badly," thought Yevgeny, "But what's one to do? Anyhow it is not for long."
Leo Tolstoy is known for epic novels that brilliantly dissect society, but the novella The Devil may be the most personally revealing--and startling--fiction he ever wrote. He thought it so scandalous, in fact, that he hid the manuscript in the upholstery of a chair in his office so his wife wouldn't find it, and he would never allow it to be published in his lifetime.
Perhaps that's because the gripping tale of an aristocratic landowner slowly overcome with unrelenting sexual desire for one of the peasants on his estate was strikingly similar to an affair Tolstoy himself had. Regardless, the tale--presented here with the two separate endings Tolstoy couldn't decide between--is a scintillating study of sexual attraction and human obsession.
The Art of The Novella Series
Too short to be a novel, too long to be a short story, the novella is generally unrecognized by academics and publishers. Nonetheless, it is a form beloved and practiced by literature's greatest writers. In the Art Of The Novella series, Melville House celebrates this renegade art form and its practitioners with titles that are, in many instances, presented in book form for the first time.
About the Author
---
Leo Nikolayevich Tolstoy was born into the Russian aristocracy in 1828. After a licentious youth, he joined the army to serve in the Crimean War. It proved the inspiration for some of his greatest writing, including War and Peace. After the war Tolstoy married Sofia Behrs and returned to the family estate, where he fathered 13 children, ran a school for young peasants, and wrote Anna Karenina. In 1879, Tolstoy underwent a spiritual crisis, and denounced the Orthodox Church, private property, and the demands of the flesh. His extreme asceticism caused decades-long tension with his wife. In 1910, after an argument with her, he died while fleeing the estate. Aylmer and Louise Maude are among the most respected translators of Tolstoy's works into English and a favorite of the author himself. A close friend of Tolstoy's, Aylmer Maude was chosen by the great writer to produce his official English language biography.
Praise For…
---
"I wanted them all, even those I'd already read."
—Ron Rosenbaum, The New York Observer

"Small wonders."
—Time Out London

"[F]irst-rate…astutely selected and attractively packaged…indisputably great works."
—Adam Begley, The New York Observer

"I've always been haunted by Bartleby, the proto-slacker. But it's the handsomely minimalist cover of the Melville House edition that gets me here, one of many in the small publisher's fine 'Art of the Novella' series."
—The New Yorker

"The Art of the Novella series is sort of an anti-Kindle. What these singular, distinctive titles celebrate is book-ness. They're slim enough to be portable but showy enough to be conspicuously consumed—tiny little objects that demand to be loved for the commodities they are."
—KQED (NPR San Francisco)

"Some like it short, and if you're one of them, Melville House, an independent publisher based in Brooklyn, has a line of books for you... elegant-looking paperback editions ...a good read in a small package."
—The Wall Street Journal