All Aboard!: Elijah McCoy's Steam Engine (Hardcover)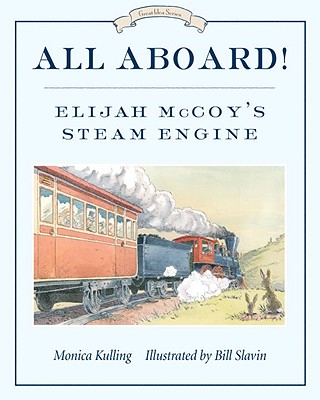 $17.95
Usually Ships in 1-5 Days
Description
---
In the second of Tundra's Great Idea series, biographies for children who are just starting to read, Monica Kulling presents the life of an extraordinary man.

There were few opportunities for the son of slaves, but Elijah McCoy's dreams led him to study mechanical engineering in Scotland. He learned everything there was to know about engines - how to design them and how to build them. But when he returned to the United States to look for work at the Michigan Central Railroad, the only job Elijah could get was shoveling coal into a train's firebox.

Undaunted, he went on to invent a means of oiling the engine while the train was running, changing the face of travel around the world.

With playful text and lively illustrations, All Aboard! Elijah McCoy's Steam Engine may be the first biography a child discovers, and it will whet the appetite for many more.
About the Author
---
MONICA KULLING was born in Vancouver, British Columbia. A poet, she has also published many books for children. Best known for her clear and engaging biographies, she has tackled subjects ranging from Harriet Tubman and Eleanor Roosevelt to Harry Houdini. Her book It's A Snap! George Eastman's First Photo, illustrated by Bill Slavin, was the first in Tundra's Great Idea Series. Monica Kulling lives in Toronto.

BILL SLAVIN has garnered many awards for the over seventy books for children he has illustrated, including The Big Book of Canada by Christopher Moore and The Library Book: The Story of Libraries from Camels to Computers by Maureen Sawa. Among his many honors, he has won the Amelia Frances Howard-Gibbon Illustrator's Award, andThe Blue Spruce Children's Choice Award."
Praise For…
---
"When I read Monica Kulling's retelling of the life of Elijah McCoy I felt the same sense of wonder and curiosity that I first experienced when I was initially introduced to this enigmatic, inventive, and charismatic figure. Bill Slavin's images are absolutely beautiful. My daughters LOVE it."
— Andrew Moodie, author of The Real McCoy

"an engaging biography of the African-American inventor . . . The narrative includes fictionalized dialogue and clear explanations about how the machinery works and concludes with an inspiring message . . ." 
— School Library Journal