Bradley McGogg, the Very Fine Frog (Hardcover)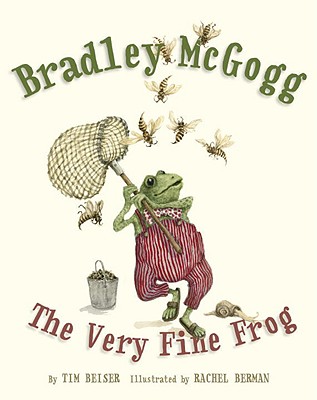 Description
---
Eww What is that? Such horrible stew
Orange-colored roots that were sticky with goo. . . .
Bradley McGogg makes his home in the bog where there are plenty of yummy bugs for a frog to feed on. Upon finding his pantry bare one day, Bradley decides to meet his neighbors, in the hopes that they will share some of their favorite meals with him. But this bog frog soon finds that not all animals eat alike . . . .
About the Author
---
Tim Beiser was born on April Fools Day in Los Angeles, California. After earning a degree in Economics at Rocky Mountain College in Montana, he moved to New York City where he spent sixteen years as a playwright and science fiction short-story writer. He was a writer-in-residence at the Helene Wurlitzer Foundation of New Mexico, and he founded the creative writing studio The Writer s Workout in Manhattan. Like most New York artists, Tim has had many day jobs: a pastry chef, an architectural draftsman, a college teacher, a waiter, a nightclub performer, a computer repairman, and, lastly, an emergency medical technician for the Fire Department of New York, driving an ambulance. Tim received a B.A.A. in Journalism from Ryerson University and started a career as a freelance magazine writer. For his work in such publications as "National Post Business," "Toronto Life," "Elm Street," "Reader s Digest," and "Saturday Night," Tim has been nominated for four National Magazine Awards. Bradley McGogg, the Very Fine Frog is his first book for children. Tim Beiser is the proud dad of twins Rowan and Daniel, and he and his family split their time between Toronto, Canada and Grignan, France.

Rachel Berman is a self-educated painter who has lived and worked in Canada, the United States, and Ireland. Born in New Orleans, Rachel has worked as a professional artist for over thirty years. Her paintings have been likened to the poems of Leonard Cohen. The mysterious figures and hidden stories glimpsed in her paintings are a reflection of the mysteries Berman has unraveled in her own life. Once known as Susan King, she discovered her original birth name, birth date, and the names of her biological parents only ten years ago. This experience led her to reclaim her long-lost name. Rachel Berman lives in Victoria, British Columbia."