You Can't Read This: Forbidden Books, Lost Writing, Mistranslations & Codes (Hardcover)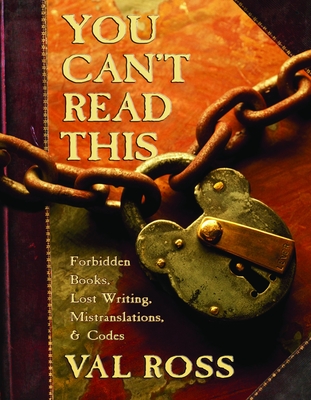 Description
---
Wherever people can read, there are stories about the magic, mystery, and power of what they read. Val Ross presents a history of reading that is, in fact, the story of the monumental, on-going struggle to read. From Enheduanna, daughter of Sargon the Great, the world's oldest signed author to Empress Shotoku of Japan who in 764 ordered the printing of one million Buddhist prayers; from the story of Hulagu, Ghengis Khan's nasty brother who destroyed the library of Baghdad to Bowdler and the censorship of Shakespeare, there have been barriers to reading ranging from the physical to the economical, social, and political.
Written for children ages ten and up, "You Can't Read This" explores the development of alphabets, the decoding of ancient languages, and censorship in Ancient Rome and modern America. It's about secret writing, trashed libraries, writers on the run, writers in hiding, books that are thought to have magical powers and mistranslations that started wars. It's about people: from the American slave Frederick Douglass to girls in Afghanistan in the year 2001 who defied laws that prevented them from learning to read.
What do all these stories have in common?
They're all about how texts contain power - and how people everywhere throughout history have devoted their wills and their brains to reading and unleashing the power of the word.
With lavish illustrations and an index, this is history at its finest.
About the Author
---
Val Ross was a renowned journalist and won a National Newspaper Award. She was highly respected throughout the publishing industry for her coverage of books and the people who create them. She was an arts reporter at "The Globe and Mail" and her first book, The Road to There: Mapmakers and Their Stories was nominated for many awards and won the Norma Fleck Award for Canadian Children's non-fiction. Val Ross passed away in 2008.
Praise For…
---
Praise for The Road to There:

"Filled with details and insights and written with a storyteller's touch, this book will simultaneously inform and fascinate readers."
— School Library Journal [starred review]

"Ross covers plenty of historical ground in this wide-ranging discussion of maps and mapmakers…. An eclectic presentation… fascinating to young people…"
— Booklist

"In 13 chapters (or stories), Ross charts a route, notable for its verve, vitality and scholarship …. [N]ew worlds will be sensed if not seen by her readers as they travel with her from There to Here."
— The Globe and Mail

"…engaging… The most extraordinary feature is that the author…uses a short-story style, combining facts with a distinct narrative voice."
— VOYA